Wrist Tendonitis and Carpal Tunnel from video games
by James
(Indiana)
I am 21 years old and have been dealing with wrist tendonitis for almost 2 years. Ever since i was a kid i've been a HUGE gamer. I used to play all day, from when I got home from school till when i went to bed.

Games have never been a problem for me until June of 2009. That is when the pain started. The first day i felt pain i thought i just stressed my hand out and figured it would go away in a few days, so i pretty much ignored it. The next day my hand was fine so i assumed my pain was over. However, the day after that the pain came back.

At first it was just a mild burning sensation on my left hand's wrist. I started taking ibuprofen (i think 600 mg) which helped for a while.

After about a week i went to the doctor and he told me it was early signs of carpal tunnel and gave me a brace for my left hand and said i can only play games for 1 hour. The brace helped a little but i was still in pain. I also began to rub my wrist and forearm with ice to ease the pain.

The ice also seemed to help. Eventually my right hand's wrist and forearm began to get a burning sensation similar to my left hand but not quite as bad.

About a month later i saw a hand specialist about my problem. He said he couldn't see anything wrong with me and sent me on my way. I continued to use my left brace and use ice on both my hands. Around October 2009, for some reason my hand significantly started to get better. The weird thing is i got a new game and started playing it all day for several days and that was when the pain went away.

Then I went back to playing video games regularly (about 4 to 7 hours a day). My hands remained fine until june of 2010. I got a new game i really got into and played it almost all day for a few weeks. Then the pain slowly started to come back. I started taking ibuprofen again and it helped a little.

I went to the doctor again and he told me it was carpal tunnel. I then decided to play games for a maximum of 4 hours with 2 hour breaks in between. This plan worked for a while but eventually the pain started to get worse.

Then i went to another hand specialist. He said he didn't see anything serioulsy wrong with me and didn't think i had carpal tunnel. He then prescribed naproxen for me to deal with the inflamation. The naproxen helps a little but didn't get rid of all the pain.

Soon after I developed a mild tight feeling in my hands. The tightness only showed up when i played games. Then i went back to the hand specialist and had a carpal tunnel test. The test said i had mild carpal tunnel and he gave me a brace for my right hand and told me to use my left handed brace as well. Then the specialist set me up an appointment
with a doctor of physical medicine. (not really certain what kind of doctor that is).
The physical medicine doctor said i had tendonitis and told me to give my hand rest and said i could only play games for an hour. i played games for only an hour for about a week and my hands still continued to get worse. The next day I decided to play no games at all and it seemed to help. I continued to not play games for 4 days. My hands got better with each day, however on the 5th day the pain came back. Since then my hands have continued to get worse to this very day.
At the moment i can avoid pain by rarely using my hands but i can't seem to shake the tight/numb feeling no matter what i do. I can get temporary relief from the tightness by ice dipping but only for about 5 minutes. I don't know what to do and I'm losing hope.
PLEASE if there's any suggestions you can give me to help me get better i would be eternally thankful. (sorry for this long story, but you asked for details so i had to make it long).
List of my symptoms (as of today)
Pain in the wrist and hands
1 hotspot on each hand (between ring finger and pinky)
Tightness/numbness primarily in left hand
inflamation
----
Joshua Answers:
Hi James.
Ahh, to be young with so much free time again! The good old days....
So.
1. It's safe to say you're majorly Vitamin D deficient. Guess what some of the symptoms of
Vit D deficiency are?
2. Same goes for
Magnesium for Tendonitis
.
3. You describe perfectly, the
Pain Causing Dynamic
, the progressive, predictable, hurts for a while better for a while now it's bad pattern.
4. For sure you have a
Tendonitis
dynamic. Probably no actual damage, but definitely lots of irritation and structural negative factors of tightness, constriction, inflammation, etc.
5. Make sure you understand the
Process of Inflammation
and how to dial it down.
6. If you have some numbness and/or tingling, then that does technically move you towards a
Carpal Tunnel Diagnosis
.
Maybe it's from the wrist, and there's certainly a lot of forearm and wrist involvement from so much video gaming, but I bet you it's mostly from up at the front of the neck and chest/shoulder.
And yes, absolutely, thanks for all the details. Details, and lots of them, are good.
Are you gaming on keyboard and mouse, or console?
More questions, more answers.
----------------------
Please reply using the comment link below. Do not submit a new submission to answer/reply, it's too hard for me to find where it's supposed to go.

And, comments have a 3,000 character limit so you may have to comment twice.
-----------------------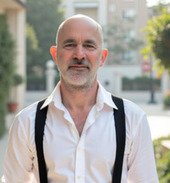 Joshua Tucker, B.A., C.M.T.
The Tendonitis Expert
www.TendonitisExpert.com