Happy Holidays And
The Start of a New Year
Hello Everyone.
I'm just dropping this note into the flood of holiday wishes and holiday 'buy my stuff' offers.
Have a great holiday! A friend of mine moved his family from several states away to just an hour away, so Kerri and I are going to visit.
It's good to have friends and family close. Poor mom is only getting a phone call this year, no in person visit. But she's learning how to use Skype so maybe we'll still see each other face to face!
And the new year is approaching. I have plans to expand my business and help even more people.
I hope your new year is filled with you thriving and living the life you want to be living.
Enjoy!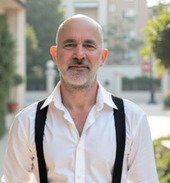 Joshua Tucker, B.A., C.M.T.
The Tendonitis Expert
www.TendonitisExpert.com