Too Hot, Too Cold, Just Right
Or Way Too Cute?
Hello Everyone.
Just a quick pointer to something I just came across.
I don't recommend a lot of products (aside from my DVD's and Ebooks) but these struck me as super cute and I wanted to share the smile.
First, the Bucky HeartWarmer Heart Pillow
Hot water bottles aren't real popular these days (maybe they are, I don't know....) but I like the idea of this one. Shaped like a heart and knobby for texture. I'd take a nap cuddling up with that! And I will. :)
The heartwarmer pillow can be used hot or cold. See, love is versatile!
Mom is getting one for Christmas. (Hmmm, though I might still have time for Mother's Day....)

And for the kids, Woopsies Kid Comfort Hot and Cold for Boo Boos
With a machine washable cover and filled with whole buckwheat seed, Whoopsies can be microwaved to use hot and frozen to be used cold. Great for kids as toys and pillows, and especially useful for bumps and bruises in a playful way.
If I had kids I'd definitely have some around the house. I don't know what it is, but I think they're adorable, and with some hot/cold functionality, they're tools, not toys. I've got a couple on the way for myself. Who needs kids!

Anyway, please indulge me wanting to pass these along. It's not everyday I find cute -and- useful things that I'd actually interested in having around the house.
Have a great day, a great week, and a great summer!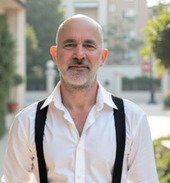 Joshua Tucker, B.A., C.M.T.
The Tendonitis Expert
www.TendonitisExpert.com