Still waiting to be fully mobile after Plantar Fascia Surgery and Heel Spur Removal
by Tammy
(Canada)

I am 45, 15lbs overweight and started having problems with my foot in 06.

I had surgery for both a huge heel spur of 7mm and part of the plantar Fascia cut on 7/09/09.

It was a very fast in and out my foot felt better. I was told to start to weight bear at 1 week and progressively put more weight on it over the next couple of weeks. Also to go to physio for 10 weeks.

It has now been 6 weeks and I have numbness in my baby toe to the fascia which is painful when walking.

I can now walk for about 3 hrs max but have to use a cane after. My ankle hurts a lot which it never did before, and the top of my foot sometimes speads out in a spasam.

I should mention that I have full range of motion and lots of strengh in the foot. I have no pain in the facia but my heel hurts after walking.

Unfortunately, I have had bad luck with physio and have changed offices so next week I see an new person and hopefully he can help me get the hoof back working again.

Wish me luck and hopefully over the next few months everthing will be normal. I hope.



----



Joshua Answers:

Hello Tammy.

You have all my best wishes, and good luck! I hope you have a full recovery too.

And thank you very much for sharing your experience.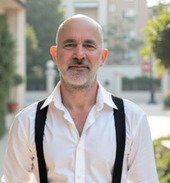 Joshua Tucker, B.A., C.M.T.
The Tendonitis Expert
www.TendonitisExpert.com