The End of a year, Finally Healing the Ruptured Disc
And Looking Ahead To 2011
Hello all.
If you haven't noticed by now, I'm not big on sending out a lot of email or newsletters to you. I trust that less email in your inbox is a good thing. :)
Having said that, I wanted to say hello to everyone as the year ends.
It's been a good year for me. I've had my challenges, and I've learned a lot.

** I've finally found the secret to getting my ruptured L5-S1 disc back in working order. I'm more flexible and lifting more weight with my back than I have in my entire life.
It feels great, and I look forward to sharing more about it in the coming year, and starting to point my practice at helping people suffering from disc pain and bulging and ruptured discs get back on their feet again (literally).

** The 'Reversing Bicep Tendonitis' ebook will be out the first week of January. I've been procrastinating on that most of this year, and looking forward to finishing it up the next couple days.

** With my hard work and your participation, www.TendonitisExpert.com continues to grow in traffic and ranking. It's like a Turtle, slow but steady. My own little version of World Domination!


I hope that you have had a great year, that you too have had your challenges and learned a lot.
And specifically of course I hope that if you had or have any Tendonitis related problems, that you found what you needed and helped your body get healthy again.
As always, I'm available for questions etc. I'll be opening up the Ask The Tendonitis Expert on the 7th of January.
THANK YOU THANK YOU THANK YOU for everything.
And have a GREAT year! It's sure to be an interesting one.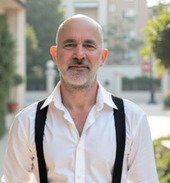 Joshua Tucker, B.A., C.M.T.
The Tendonitis Expert
www.TendonitisExpert.com