Anaphylactic Reaction From Levaquin IV For Infection
by MARGARITA R.
(EL PASO,TX )
I FELT SICK SO MY SON TOOK ME TO THE E.R. TO BE SEEN I WAS ADMITED TO THE HOSPITAL THE DR. THIER TOLD ME I HAD AN INFECTION AND WAS GIVEN LEVAQUIN IV ONCE ON THE FLOOR IT DID NOT TAKE FIVE MINUTES WHEN I HAD TROUBLE BREATHING BY THE TIME THE NURSES ON THE FLOOR CAME IN I WAS IN CARDIAC ARREST I HAD A BAD REACTION BY THE TIME I WOKE UP MY KIDS WERE VERY SCARED THAT I WOULD'NT WAKE UP AND I WAS SWOLLEN FROM MY FACE,ARMS,LEGS I FELT SICKER THAN WHEN I WENT IN TO THE HOSPIAL NOW IM AFFAID OF ANY MEDICATION I GET. THANK GOD THAT IM FINE NOW.
----
Joshua Comments:
The most severe allergic reaction you can get is called Anaphylaxis.
This is the kind of thing a kid swells up and gets rushed to the ER for from eating a peanut.
My Kerri, an ER/ICE nurse happens to be sitting right here. From what you've said, her response is something along the lines of 'you went into anaphylactic shock, it could have been from anything'.
I haven't heard of this reaction before, I'll look into it. My sense is that while the Levaquin may have caused it, and it's wise of you not to want to go that route again, it's not a Levaquin specific reaction, and, again, it could have happened from any number of medications one gets in the hospital. You just happened to draw the lucky number.
It's a Catch 22. If you hadn't of been in the hospital and gotten a Levaquin dosage, you wouldn't have had an allergic reaction and gone into cardiac arrest.
If you hadn't have been in the hospital and took Levaquin, you likely would have died.
It sounds like you have fully recovered and feel great now? No Levaquin Tendonitis or other pain or problems from the Levaquin IV?
Good.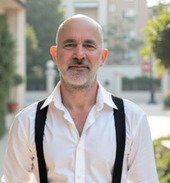 Joshua Tucker, B.A., C.M.T.
The Tendonitis Expert
www.TendonitisExpert.com