Guitar Tendonitis
Playing Without Guitar
Wrist Pain
If you have Guitar Tendonitis then you know the ache, pain, and fatigue that comes from playing with hand, wrist, and forearm pain.
You also know the worry and fear that more playing will cause more damage.
The good news is, you PROBABLY don't have any actual damage!
But you do have muscle tightness, connective tissue constriction, and a nervous system that is afraid for your safety.
You essentially have Wrist Tendonitis, but with specific aspects that come from the requirements of playing guitar.

What Is Guitar Tendonitis?
The Guitar Tendonitis dynamic is A LOT like the Wrist Tendonitis dynamic.
It's important to keep in mind the concept of 'DYNAMIC'. Meaning, there are many factors involved. There are a lot of variables at play.
Ultimately, it's all about the Pain Causing Dynamic, which is the progressive tightening of muscle and connective tissue and the increasing amount of pain enhancing chemicals released into the tissue from the Process of Inflammation that is in place.

There Are Two Types Of Tendonitis, so maybe you have actual tendon damage, maybe you don't. Either way, the treatment is the same.
The bad news is, you have pain and problem. The good news is, it's not that big a deal to reverse the mechanism, to make the pain go away, and to get your arm(s) healthy again.
Guitar players have wrist tendonitis of a particular flavor I call Guitar Tendonitis.
You have all the tightness and irritation of regular wrist tendonitis, but something about playing guitar (as opposed to typing all day) creates a deeper constriction of tissue.
This feels deep, and if you move your fingers, or do some massage and press into your forearms by your wrist, you'll know what I'm talking about.
If you press into your thumb pad, it's predictable you'll find some VERY tender spots in there too, even if it doesn't normal hurt there.
With the RIGHT self care Guitar Tendonitis can be reversed, and with a little ongoing maintenance as needed, you can play as much as you want, for as long as you want, without pain.

How Many Of Us Get Guitar Tendonitis?
How many guitar players get, essentially, wrist tendonitis symptoms?
A surprisingly large amount, actually.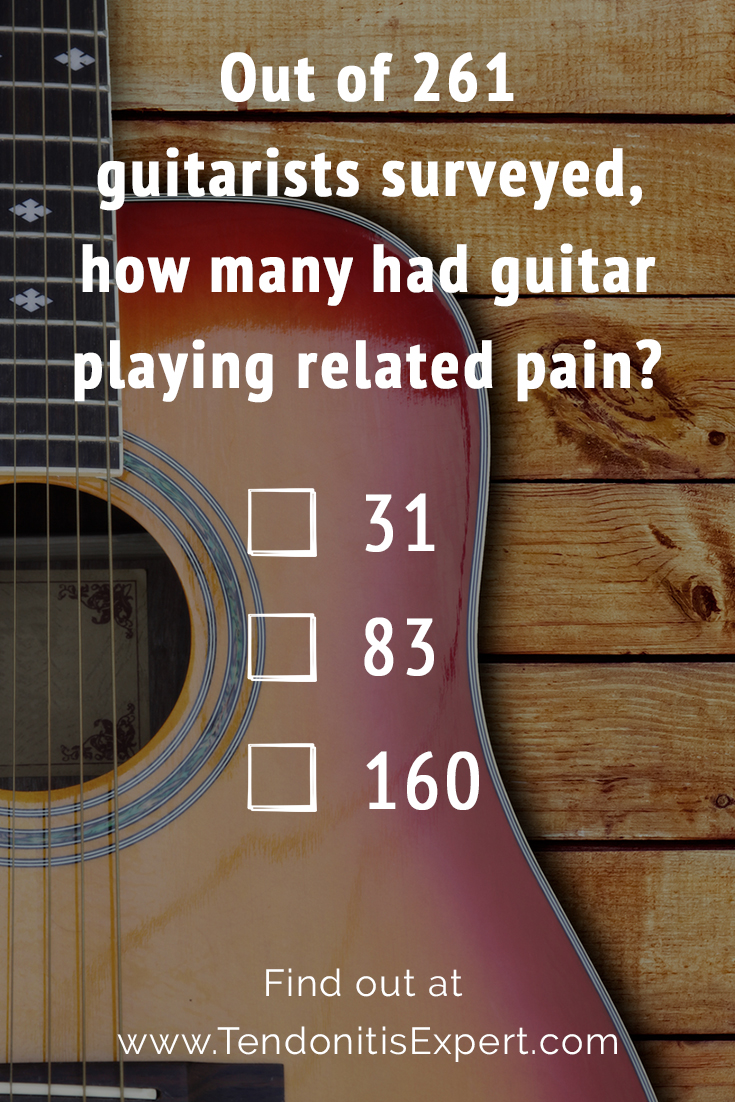 So out of 261 guitarists in one particular survery, how many said they had guitar playing related pain symptoms?
31?  63?  160?
And the correct answer is......
160.  
160 of 261 guitar players had pain from playing.  That's over 50% of guitar players reporting pain from playing.
61% !!!!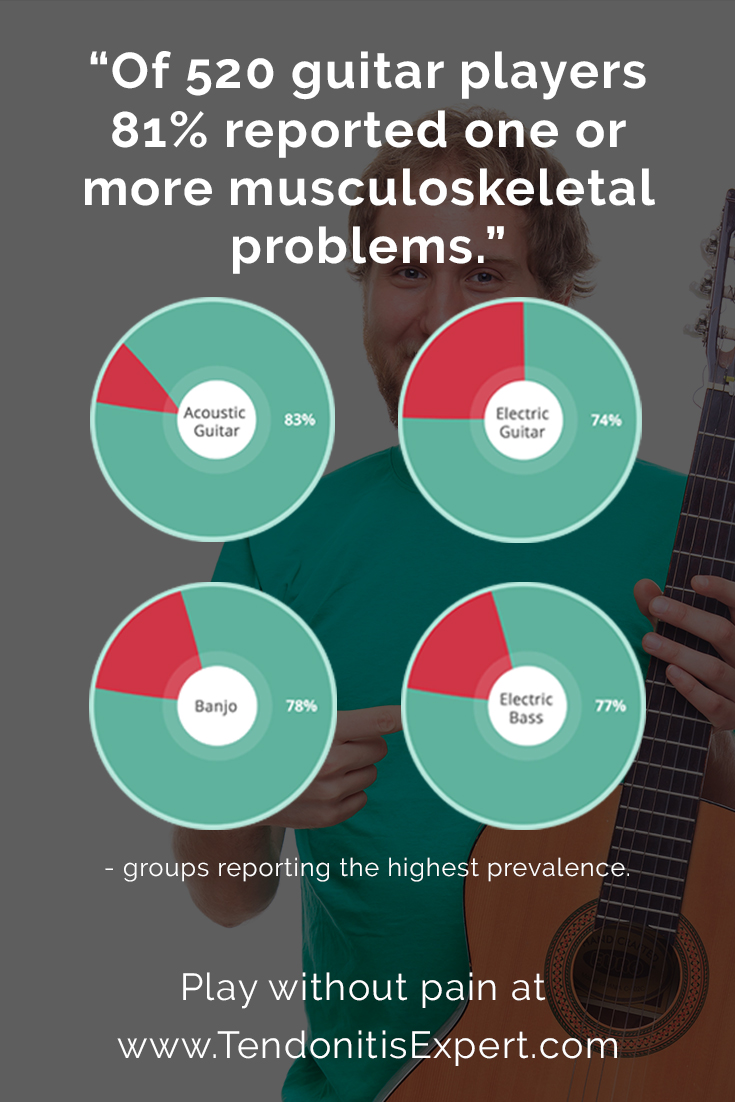 In a different study on 520 guitar players, 81% reported pain and problem from playing guitar.
All that pain and problem falls under the guitar tendonitis -dynamic-.
Just the above two studies show that 61%-81% of guitar players suffer from pain from playing.
That is a HUGE percentage!
And it's too many people suffering needlessly for doing something that they love to do.
I don't know what percentage of guitarists are force to quit playing due to guitar tendonitis, but even ONE is too many.
Guitar tendonitis is reversible, 100%.
Guitarists shouldn't have to play less to avoid pain, and they shouldn't have to quit.
And their doctors, should NEVER tell their patients to quit playing guitar...but they do because just like you don't know how to get yourself pain free, your doctors don't either.
But you want to learn how to play as much as you want, don't you?


How Did I Get Guitar Tendonitis?
So, how did you get all this wrist pain from playing guitar?
Let's see.
You use your hands a lot....computer, guitar, job/work/hobby/etc.
This requires your muscles to contract over and over and over. Thousands and thousands of times.
This creates waste produce, a certain amount of friction, and strain.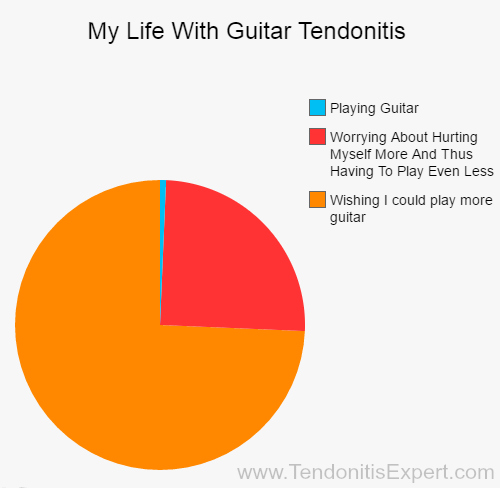 This also naturally sets you up for increasing muscle tightness, connective tissue constriction, and inflammation.
Inflammation releases chemicals which increase your sensitivity to pain.
Throw in poor posture and that creates extra strain and discomfort.
Time passes as you do this everyday.
This all adds up to a structural dynamic that just doesn't work very well, and hurts, and builds on itself to get worse and worse.
Eventually, you feel it as pain. Then you feel it as disabling pain.
As I said, maybe you have damage, maybe not. It's all the tightness and constriction that you need to deal with.
And you need to get all that pain enhancing chemical out of there and dial down the inflammation response.
If you don't change your structure back to how it used to be, you're doomed to more pain!

Now, you may be thinking, "I was fine last week, but I hurt BAD now so I must have injured it!".
Maybe, but not likely. The dynamic was progressing underneath your skin LONG before you felt pain. You finally just took it past the point that your body could 'successfully' compensate for.
Make sure that you understand the tendonitis -dynamic-.  See:  What Is Tendonitis?

How Do I Get Rid Of
Guitar Tendonitis?
So how do you make your guitar wrist pain go away?
You want to play a lot of guitar, as much as you want, for the next 50 years, right?
Good. Then you're motivated to learn how to do it. Just like you had to learn how to play guitar, you have to learn how to keep your body in healthy playing shape.
There is no magic pill, no silver bullet, no quick fix
Getting yourself out of pain will take some time and some effort. It's taken you years to get where you're at. It may take a month or two to REVERSE all the changes that have slowly crept in.
You should be able to get out of pain halfway quickly. But if you want to make sure that you can play to your heart's content, you better tune your hand/wrist/forearm to the right vibration.

Probably you've already tried resting, taking time off, splints and braces, anti-inflammatory drugs like Ibuprofen and corticosteroid injections, maybe even surgery.
How'd that work? If it did, great. If you're still in pain, I'd say you need something different.  Because those options clearly didn't work.
"I started on Thursday. By Sunday I was able to practice techniques that I had not been able to in a year.

Your information has helped restore my sanity.

Thank you!"

Bryan S.
There is a RIGHT tool for every job. If you don't use the right tool......
To find out more about what I consider to be the RIGHT tool, take a look at the page for the program Reversing Guitar Tendonitis.
"Thanks very much Joshua.  I feel great!  Pain is gone."
- Carlos R.

More On Guitar Tendonitis

I don't talk about good ergonomics or 'better' ways to actually play guitar. I don't know anything about that. If you have some good suggestions, please comment below.
I do talk about how to get your painful structures into a pain-free state, and how to keep them there. You'll find a lot of valuable information on this website. Take a look around.
If you have any guitar tendinitis questions, please ask them below.
Do You Have Guitar Tendonitis Symptoms?
If you have hand, wrist, and forearm pain that just won't go away, pain that's keeping you from playing guitar, please ask questions here, and/or just tell your story/experience.
What Other Guitar Players Have Said
Click below to see contributions from other visitors to this page...

Return to the top of this Guitar Tendonitis page. 
Go to the Wrist Tendonitis page. 
Go to the main Tendonitis page. 
Go to the TendonitisExpert.com homepage.