Can barely walk due to thigh pain after 6 days on Levaquin 500mg
by Margie
(Raleigh)
I have been on Levaquin for 6 days now and after the 3rd day noticed pain in both hips and thighs. I thought the pain was a result of having a chiropractic adjustment the 3rd day on the drug.
Now I wonder if it is the Levaquin that is causing the extreme thigh pain as I have never felt this before. The pain is in the front and side of my thighs.
I was given a 7-day prescription for Levaquin 500 as I have had an on-and-off sinus infection for 4 months and was not responding to amoxicillin.
How do I know if I have tendonitis or tendon rupture? What are the symptoms? (I thought it was sciatica as I had slight pain in right hip and trocanter area for 2 months.)
Now I am worried that my life is ruined due to my doctor giving me this prescription. I am 66 years old and have rheumatoid arthritis but have been virtually pain-free for the past 4 years.
----
Joshua Answers:
Hi Margie.
How to tell between
Tendonitis
and tendon rupture?
Well, if it's from Levaquin, it's really a question of how much damage is there, and how in danger are you of rupture.
Levaquin causes degradation of the tendon (of connective tissue, really, that can show up anywhere and in multiple areas).
Levaquin Tendonitis
isn't the same as regular Tendonitis. It's not wear and tear and repetitive strain, it's cytotoxic damage and possible DNA damage.
So there's that.
As far as the pain, one of the things that may really help is to get a bunch of Magnesium into you. Read this
Magnesium Dosage
page and this
Levaquin Tendonitis Treatment
page.
Quinolone antibiotics use up Magnesium, and can leave you SEVERELY depleted, causing muscle pain, spasm, cramp, too tight muscles, etc.
I also HIGHLY suggest that you get your Vitamin D levels up to between 50-80. It may make a HUGE difference for the operation of your immune system.
----------------------
Please reply using the comment link below. Do not submit a new submission to answer/reply, it's too hard for me to find where it's supposed to go.
And, comments have a 3,000 character limit so you may have to comment twice.
-----------------------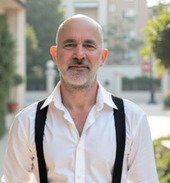 Joshua Tucker, B.A., C.M.T.
The Tendonitis Expert
www.TendonitisExpert.com