End of an era, I Took Levaquin For 6 Days
by skeeter
(MA)
I took Levaquin for 6 days, now I can't walk.


The End
----
Joshua Answers:
Hi Skeeter.
Ouch.
As always, there's more to the story.
Epilogue.
Apendix.
Sequels.
Levaquin Tendonitis
is a comples, multi-faceted conversation.
Don't give up.
----------------------
Please reply using the comment link below. Do not submit a new submission to answer/reply, it's too hard for me to find where it's supposed to go.

And, comments have a 3,000 character limit so you may have to comment twice.
-----------------------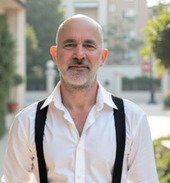 Joshua Tucker, B.A., C.M.T.
The Tendonitis Expert
www.TendonitisExpert.com
Join in and write your own page! It's easy to do. How? Simply click here to return to Levaquin.