Horrific Experience from 750 MG of Levaquin!
by Joyce Evans
(Rouses Point, N.Y.)
March 17, 2006
Side effects:
Levaquin 750 mg.
Two days - knee function lost. Could not get out of bed on my own.
Lost mobility of my hands. Could not hold a cup of coffee, had to drink it through a straw.
Could not open containers to feed my pets.
Unable to cleansed myself.
Three nights of awakening my husband screaming. It felt like someone was cutting the edge of my ears with scissors.
I took 1300 mg of tylenol every 3 and a half hours, 24/7 for 6 weeks. The pain was unbearable. I lost weight, muscle , skin and bone mass.
Shortly, after I started with an eye twitch and then my left check on my face would jump and hurt and even wake me up at night. I still have this problem. It's so embarrsing to go out in public with the facial jump and eye twitch. I don't know if this has anything to do with Levaquin?
It just started at the same time.
I wish to thank whoever is responsible for bringing Levaquin to the public attention.
----
Joshua Answers:
Hello Joyce.
That sounds...as you said...horrible.
Wow. That's certainly on the bad end of the specturm of Levaquin side effects.
How much did you take of the 750 mg. Levaquin dosage? And symptoms hit like a hammer on the second day, or they started small and quickly increased?
Are you doing anything besides Tylenol? Other supplements? Have your doctors done any tests, have anything to suggest other than painkillers?
I can't say for sure whether Levaquin caused this, but it SURE looks like the guilty party.
Most illness or diseases (which your's doesn't look like) don't come on that fast, with that spread of symptoms.
The eye twitch could possibly be due to you suddenly becoming
Magnesium
deficient from your body suddenly using up so much dealing with pain and muscle tightness and such.
I'm so very sorry you are suffering like this.
And yes, the more stories from people suffering from Levaquin toxicity, the more people will become aware of the dangers, and the more doctors will be aware that the drugs they prescribe may actually be dangerous.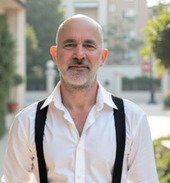 Joshua Tucker, B.A., C.M.T.
The Tendonitis Expert
www.TendonitisExpert.com