Levaquin Nightmare From A Single 750mg Dosage
by Susan
(Yuma AZ)
I will never forgot my experience with this poison. I never had a bad reaction or was allergic to any medications, but had only taken the occasional penicillin or amoxicillin prior to this. Today is August 25, 2009 - two years later. I can no longer participate in activities with my child or do any exercising.


In June 2007 I was prescibed 750mg levaquin for a throat/sinus infection. Within 15 minutes of taking the first tablet after lunch I felt lightheaded, agitated, nervous, my heart was racing.
As the day progressed I started to feel very hot and my skin was tingling. I just felt weird - not myself at all.
Had insomnia that night - did not sleep at all.
The racing heart and palpitations and my feeling of being hot and prickly never stopped this whole time. Felt almost like I had been drinking coffee nonstop for days. At one point during the night I wondered if I was dying.
I never took another of those pills. Next morning I called the dr. office and explained my reaction and the gal on the other end said to discontinue taking them - like I would ever take another one.
Shortly thereafter, within days, the tendon pain started. This is not a mild pain, it is excruciating and feels like a burning stabbing pain that
will not go away. Cannot move the effected area it hurts so much. The pain travels around my body and stays for days, weeks, months. Neck, arms, wrists, knees, but mostly my feet, left ankle and shoulders.
The tibial tendon in my left ankle partially tore and has never healed. It is still inflammed, swollen and hurts daily. The range of motion is gone. I cannot use stairs. I walk with a limp. I have had ultrasounds and cat scans and the drs. say nothing is wrong!! So what is the problem? Levaquin.
I have gained 40 pounds in the last two years due to the fact that I cannot exercise or even walk my dog.
LEVAQUIN RUINED MY LIFE.
----
Joshua Comments:
Really, the doctor's say that nothing is wrong?
That's crazy!
Thank you for telling your story, Susan. Hopefully others will read this before they take their Levaquin prescription and put themselves at risk for an experience like yours.
I really feel for you, and I know there's a lot of people out there in your situation that can truly relate.
Tendonitis is one thing, this damage from Levaquin toxicity is another thing entirely.
In my opinion, it is criminal that doctors either aren't educating themselves, or willfully continue to use this drug because 'the benefits outweigh the risks'.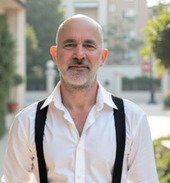 Joshua Tucker, B.A., C.M.T.
The Tendonitis Expert
www.TendonitisExpert.com