Why Cleveland Indians Reliever Adam Miller Wishes He Knew The Tendonitis Expert
by The Tendonitis Expert
(San Francisco)
Why Cleveland Indians reliever Adam Miller wishes he knew me



It looks like Cleveland Indians relief pitcher Adam Miller is about to have a second surgery to try to 'fix' the problem on his pitching hand that may end his career.

Cleveland.com reports "Miller, who underwent surgery on his right middle finger last year, will spend the next seven to 10 days throwing to see if he can command his pitches without pain, Indians trainer Lonnie Soloff said Wednesday.

If Miller can't, he will have a procedure where a tendon will be taken from his wrist to reattach the tendon in his finger.

Soloff said the operation would cost Miller this season and perhaps end his career. Soloff said a build up of scar tissue could make it impossible to pitch. The surgery normally requires nine to 12 months of rehabilitation."

What are the chances he can continue to pitch for the next 7-10 days without irritating his old injury that wasn't helped to heal properly?

Incredibly slim, especially since it's hurting right now.

I bet that surgery is already scheduled.



I don't know Adam Miller. But he wishes he knew me.



He may not have tendonitis per se, but there are rules to soft tissue, heavy use, and injury.

If you don't treat them the RIGHT way, you can look forward to ongoing pain and problem.

The first surgery clearly didn't work.

Or, it worked, but nobody told Mr. Miller how to:

A. successfully recover from the surgery

B. successfully get back to full time pitching without restarting the Pain Causing Dynamic that never went away.

A Professional League Baseball player with minor league health care information makes for a bad combination.



"The hard-throwing 24-year-old Miller came to training camp with a chance to win a job in Cleveland's bullpen. However, his finger has been swollen and stiff and he was shut down late last week."

I really feel for the guy.

At that level of play, those guys are PASSIONATE about the game.

It's got to be heartbreak to be looking at a swollen finger and a possible end of a career.

The fact is, nobody the Cleveland Indians have hired to help Adam have been able to effectively help him.

The proof? He can't pitch now.

His finger is swollen and stiff and surgery is the next option, since they can't think of anything better to try.

If you know Adam Miller, put him in touch with me. I bet I could save his career.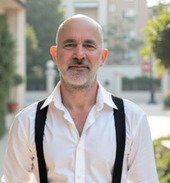 Joshua Tucker, B.A., C.M.T.
The Tendonitis Expert
www.TendonitisExpert.com