Bleeding Bladder And Levaquin Leads To Shoulder Tendonitis Pain
by Robin
(Chilli Ohio)
I rushed to the emergency room to find a cure for bloody urine and excruciating pain in my back.
The nurse was even so kind to leave me unattended to bring my blood filled cup up to the desk on my own. After they were unable to determine the cause of the bloody urine due to no infection showing in the urine culture, they assumed I had a kidney infection.
Soon I was given a Levaquin injection directly into the iv attached to the wrist of my right hand. The next day I began taking an oral dose of levaquin only to experience the worst migraine headache I have ever had.
The doctor switched me to cipro. I have had terrible shoulder and elbow problems since then.
I have had physical therapy sessions on two separate occassions(8-10 times), tried heat, saw a bone and joint specialist, tried voltaren cream, chiropractor treatments, rest, excercise. Nothing helps for long.
The doctor tells me it is tendonitis but it never goes away. And it is only in my right arm where I had the iv.
----
Thanks for sharing Robin.
It never ceases to amaze me about the medical profession and Urinary Tract Infections (UTI).
1. "Well, we can't find any bacterial infection, but we'll give you one of the most powerful antibiotics anyway. What could possibly go wrong?"
2. There is a cheap and natural UTI treatment that is totally safe.
It's called D-Mannose. From women I've been around, I've seen even bad UTI knocked out in a day or two when taking D-Mannose. Depending on where you live, you can get it at a healthy/health food store, or you can get it from this source I recommend and trust --->
D-Mannose from Dr. Mercola
So there's that.
What exactly are your symptoms?
Check out this page about
Complex Regional Pain Syndrome
and see if the symptoms match.
That's good news, I think, if it's only in your one arm/shoulder. Many people have that tendon pain all over.
Not great news, but...ya know.
I'm coming out with a page of information in the next couple days that you may be interested in/in trying out the suggestions on it. I'll add the link here and you'll get an email notice.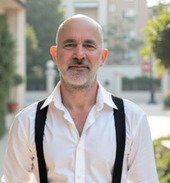 Joshua Tucker, B.A., C.M.T.
The Tendonitis Expert
www.TendonitisExpert.com