Cipro damage to tendons, doctor said was making too big a deal out of it
by Marat S.
(Pacifica, CA (& Russia))
I am 36, male, took cipro for 8 days, 1x500mg a day for prostate infection. I was aware of the side effects and reduced a dosage to 1X500mg instead of 2!


Thanks God, that I have my own head and didn't listen to the Kaiser's doctors!
Horrible health provider BTW, I figured out that it's either you have a good doctor/provider or not have a doctor at all!
I started to notice pain in knees and tendons behind them after 4th pill. It was brief, like for 1/2 hour. I kept taking it. Pains were coming and disappearing.
After 6th tablet I told that to the doctor and he told me that I am worried about it too much and making a big deal out of it. I kept taking them.
After 8th tablet pains become more persistent and I stopped. In a week after that pains become severe. I asked doctor - what should I do? First, he didn't believe me. He told me that he gave it to 100s of people and nobody complained... Then, he said that there is no specific treatment...
My mistake was that I believed that the pains would disappear within a week after treatment. And doctor was supposed to tell me immediately to stop.
So I was able to do only limited walking for a month, due to knee pains and stiff tendons. After a month pains gradually disappeared. I got happy, I started to hike, etc.
But after a 10 days ago, about 2.5 month after stopping taking cipro the pains returned after I did rollerblading. The good part that pain is not that horrible like it was before. So far...
Now I took it seriously. Seems like they didn't get fully healed. I am following your recommendations - with bone broth,
magnesium, Vit B6, CoQ10, joint supplements, protein supplements.
I also bought today cow tendons, chopped them and ate them raw.
Seems like they have to heal again. They heal, but again, very very slowly.
There was interesting research here before the link died. http://gateway.nlm.nih.gov/MeetingAbstracts/ma?f=102244628.html
It said relative concentrations of other proteins in tendons from ciprofloxacin-treated dogs decreased by 73% (elastin), 88% (fibronectin), and 96% (Beta1-integrin) when compared to control samples (data from low-dose group only). A very similar pattern of protein alterations was detected in magnesium-deficient samples.
In conclusion, rather low doses of a fluoroquinolone or a dietarily-induced magnesium deficiency induce identical biochemical alterations in canine tendons. These findings further support the hypothesis that quinolone-induced toxic effects on connective tissue structures are due to the magnesium-antagonistic effects of these antibacterial agents.
This is why I've bought the cow tendons. Elastin, fibronectin, and Beta1-integrin - I can't find them anywere as a supplement.
----
Joshua Answers:
Hi Marat. Thanks for that great information!
I bet that tendon is chewey....
That's why I like the
Bone Broth
method, because you can stew all those nutrients out and eat/drink it down. You could throw them tendons in there too. Tendons are a common menu option that goes into Pho (viet namese soup).
Darn it, now I'm going to have to find and eat some tendon.....
The bad news is, generally by the time a doctor says 'stop', it's too late. Still, who knows what two days less dosage would have done for you?
Sorry to hear about the pain and such. I'm not much into lawsuits, but I'm all for them in the case of fluoroquinolones. Nothing else will have doctors/pharmaceutical compaines switch to something else.
And I VERY much appreciate your motivation and determination to find a solution.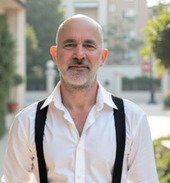 Joshua Tucker, B.A., C.M.T.
The Tendonitis Expert
www.TendonitisExpert.com