Do Ligaments Also Get Inflamed?
I have peroneal tendon problems.


But could the ligaments that are involved in the same area also get tendonitis?
And....will the ice "attack" also help deal with this sort of inflammation too?
----
Joshua Answers:
Essentially, the answer to your questions is 'Yes'.
Whether one has
Tendonitis
or not, ligaments can get a little or a lot stretched, get wear and tear damage, have too much intermittent and/or constant strain on them and get irritated, inflammed, and unhappy.
For instance, if you foot bones or ankle bones are out of alignment, or if chronically tight muscles are pulling a joint askew, then the forces will get out of balance and the ligaments will have more strain on them than they like.
I like to call the result 'ligamentitis'.
The
Process of Inflammation
is the same, the resulting
Pain Causing Dynamic
is the same.
It's basically Tendonitis of the ligament.
Might be worth a trip to a foot chiropractor, make sure everything's aligned, because the Peroneal Tendonitis symptoms can possibly have an element of Ligamentitis at play.
-- Ice Attack -- I like it! Great name.
Yes, attacking inflammation with Ice Dips and Ice Massage as described on the
How To Reduce Inflammation
page will knock down the inflammation response.
Keep in mind that ligament is even tougher and denser than tendon, so it will take more time and more work to un-inflam a damaged ligament.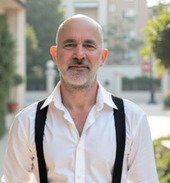 Joshua Tucker, B.A., C.M.T.
The Tendonitis Expert
www.TendonitisExpert.com