**FRANK** Neck pain causes arm pain
by Frank
Hi, I got an e-mail saying that there was a new comment on my previous posting, but I didn't see it.
My neck pain is still really bad on the right side. Just a couple of minutes of very light use of my right hand, for example, using my pen tablet to move around the screen, brings lots of pain from the neck down.
By the way, I am unable to add comments when I use Firefox 3.5 on a Mac. I'm not sure, but I think the box that says that I agree to the conditions does not appear when using Firefox.
----
Joshua Answers:
Hey Frank.
For the life of me I can't find out last conversation (70+ submissions to look through). And I hope you see this because you didn't leave your email address for me to email you....
1. If you still have the notification email, look at it again. It should have a link to the page.
2. We can continue here, no problem. If you can't comment on a Mac, an easy workaround is to just use the contact form on the site to contact me, and I'll add your text to this conversation, and email you the page address.
3. I assume that you mean 'a few minutes of work causes pain all the way down the arm.'
Scalene muscles jumps to mind as the big culprit.
We're at a disadvantate since I can't find our last conversation to refresh my mind of your particular situation.
I'll look again and find your address at some point today or tomorrow. Let's get you out of pain.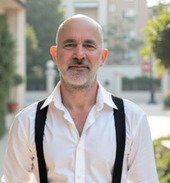 Joshua Tucker, B.A., C.M.T.
The Tendonitis Expert
www.TendonitisExpert.com