Neck Pain Relief After Phone Consultation
by Frank
Hello, this is Frank.
Thanks for your advice over the phone for neck pain relief. I have been doing these exercises throughout the day and they have helped tremendously.
One thing I like is that it really doesn't take much time.
Before I spoke to you, the back of my neck had been hurting a lot so I just rubbed the back of my neck in a vain attempt to relieve the pain.
Only when I did the specific exercises you recommended that I start noticing relief.
Thanks!
----
Hey Frank.
Good to hear from you.
Yep, isn't it amazing what the RIGHT tool or stretch or activity can do?
Kudo's to you for actually taking the time to find the right help, and then actually doing it until you get results.
Since you're feeling better, it's probably time to start digging in a little more/deeper, pushing it more. Maybe you have already, I think I mentioned that you'd get to that point.
And thanks for letting me know!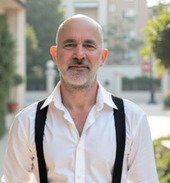 Joshua Tucker, B.A., C.M.T.
The Tendonitis Expert
www.TendonitisExpert.com