1 month post-op Achilles Tendon Repair Surgery
by Pam
(Clearwater, FL)
I'm a 55 yr. old female, was doing well and walking 3-5 miles a day before this Achilles tendon injury.


I have suffered with pain in my left Achilles tendon for about 2 years. I went to 3 orthopedic doctors before one actually ordered the MRI which showed the tear.
Previously I had worn a "boot" for almost a year and had PT. The pain/swelling only got worse over the course of time, mobility was very limited. I had surgery on 1-6-11 and am currently recovering.
Surgery included left heel debridement of the bursa, excision of bone, partial ostectomy, and tendon repair. It was outpatient surgery.
I came home with an Accufuser (which is like an IV Drip going into affected leg, just above the knee posteriorly).
I had this for 5 days. I think it really worked to control pain.The pain was definitely off the charts the first 24 hrs. until everything kicked it.
I did spend those first 5 days mostly in bed with foot elevated. I was off pain meds after 10 days.
I was in a soft cast the first 2 wks. now in a hard cast until 2-22-11. The doctor instructed me to not put any weight on it. I don't think I could anyway at this point(4wks post-op)
My hardest problem has been how to move around my house. I can't use crutches due to RA. Wheelchair on carpet is difficult. I'm lucky to have a husband that took off work the first 3 wks. as now I'm just counting down to get this cast off and start PT.
Then I will go back to the "boot". Hopefully, will be mobile
again.
----
Joshua Answers:
Hi Pam.
Wow, that sounds horrible. Was the tear right on the heel attachment?
Yikes.
Did you have
Achilles Tendonitis
symptoms before 2 years ago? Or did all of a sudden you had injury and pain? Sounds like the latter.
4 weeks later and still no improvement...sounds about right. Being in the cast doesn't help much as you can't get at it to help it heal.
As SOON as it gets off, start Ice Dipping as described on the
How To Reduce Inflammation
page. That's going to be your best friend as you recover, throughout the PT included.
Also,
Magnesium for Tendonitis
to help muscles loosen, and natural anti-inflammatories like turmeric and Omega 3 fats.
You didn't include your email, I hope you find this response.
Good luck, and let us know how you progress.
----------------------
Please reply using the comment link below. Do not submit a new submission to answer/reply, it's too hard for me to find where it's supposed to go.

And, comments have a 3,000 character limit so you may have to comment twice.
-----------------------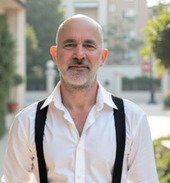 Joshua Tucker, B.A., C.M.T.
The Tendonitis Expert
www.TendonitisExpert.com