Achilles Tendon Surgery -- Good Outcome But Now Showing Up In Other Leg
I had surgery in January, 2010 for the following issues discovered on MRI:
1) partial tear of the anterior talofibulra ligament;
2) small longitudinal tear of the peroneal longus tendon;
3) tear in posterior tibial tendon;
4) tendinosis of achilles tendon with scar tissue causing a nodule.
Came out of surgery with 5 incisions (including the two used for the scope). Non-weight bearing for five weeks; in a boot for 3 weeks, unable to drive for 6 weeks (right foot); and physical therapy for 7 weeks.
Although I went into the surgery thinking it would be a quick fix, I soon learned that this surgery would require quite a long recovery.
At this point I am 4 months post surgery and I am pretty pleased with the outcome. I am still limping slightly due to the achilles tendon still being tender. The doctor is pleased with the outcome.
My "uh oh" moment is that my left ankle is showing the exact same signs that caused the problem in the right. Swelling and a knot on the achilles tendon.
Sounds like I'm going to be going through this again in the not too distant future.
----
Joshua Answers:
Hi there.
I'm glad you're happy with the results. It sure beats the alternative.
I am curious though, what -specifically- about it has you be happy with it?
I'm also curious, how big
were the tears? Tiny, medium, sizeable?
Did the doctors use staples or some such to fix the tears, or just roto rooter it all out?
Achilles Tendonitis
and
Achilles Tendonosis
can be bad news, given enough time and degradation. Sometimes surgery is not a bad option.
FYI, the info in my
Reversing Achilles Tendonitis ebook
can help you heal faster/reduce the pain levels faster. You may or may not be interested in that.
I'm curious for the answers to the questions above, thanks for sharing here, and may you heal quickly and completely!
----------------------
Please reply using the comment link below. Do not submit a new submission to answer/reply, it's too hard for me to find where it's supposed to go.

And, comments have a 3,000 character limit so you may have to comment twice.
-----------------------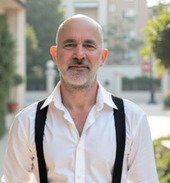 Joshua Tucker, B.A., C.M.T.
The Tendonitis Expert
www.TendonitisExpert.com