Achilles Tendonitis and Achilles Tendon Rupture, just a little bump in the road
by Frank
(Rockaway Beach, N.Y.)
I'm an avid runner, triathlete, and work in the construction field. A few months ago I felt that nagging pain in the achilles area.


After the first MRI they told me it was tendonitis. It got worse. After the second MRI they found that my tendon was hanging on my a hair. I worked in spite of my pain and pronounced limp. Even danced at my daughters wedding!
Finally on Friday March 25th my surgery was done at N.Y.U. It's been two days after the surgery and to my surprise, without heavy drugs, I feel fine except for a little tightness in the incision area.
My mindset is to heal according to the Doctors orders and get back on the road as soon as I can. To me, this is just a little setback in life. I know this could be a lot worse!
It's easy to sit with your leg up and feel sorry for yourself. I don't. With all I put my body through over the past 55 years, if this it the worst thing, I'll take it.
My goal is to heal and go. I'm a driven person. I'll heal and be out on the road again soon.
Just a little bump in the road!!
----
Joshua Answers:
Hi Frank.
I like your attitude!
And if you're in
no/little pain right after surgery, that's a huge benefit.
Don't push it just because you don't hurt. That's the obvious danger. Things are extra tight now, and for a time, extra fragile.
So you had
Achilles Tendonitis
, which means you had too much muscle and connective tissue tightness, and reduced circulation to your Achilles tendon. It all goes downhill from there.
Keep us updated and let us know how it goes for you.
And, what are you doing for self care and/or rehab?
----------------------
Please reply using the comment link below. Do not submit a new submission to answer/reply, it's too hard for me to find where it's supposed to go.

And, comments have a 3,000 character limit so you may have to comment twice.
-----------------------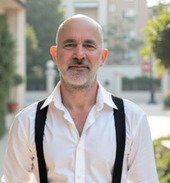 Joshua Tucker, B.A., C.M.T.
The Tendonitis Expert
www.TendonitisExpert.com