Your Doctor Knows
Arthritis Medication Can't Fix Arthritis  
Arthritis Medication is the main (and only) treatment mainstream medical doctors employ to 'treat' arthritis.
Current medical paradigm consists of:
an arthritis 'disease' magically appeared for no reason
there is no cure for arthritis
pharmaceutical drugs are the only viable option of treatment (even though they can't cure arthritis)
Arthritis medicine is employed in an attempt to suppress symptoms.
But unfortunately, doctors don't ask WHY symptoms are occurring.  They just give their patients a prescription and usher them out the door.
And there are A LOT of arthritis pain medications out there.

$54.4 BILLION Spent By Patients On Arthritis Medication And ZERO Patients Cured
In just the five years 2011 - 2015, people suffering from arthritis spent $54.4 billion on arthritis pain medication.
And not a single one of those people were cured of arthritis by those medicines.
Rheumatoid arthritis medication and osteoarthritis medication are GREAT products for the pharmaceutical industry.
Humira is the top selling drug of all time.  In 2011 is sold $7.9 billion.  In 2015 is sold $14 billion.
Because patients suffering from arthritis are prescribed these drugs to reduce pain levels.  And these drugs must be taken FOREVER.
Because they don't cure arthrititis.  At best they reduce symptoms.
There's nothing wrong with reducing pain and helping a person get through their day better.
But there IS something wrongwith selling patients a lifelong requirement to a drug that doesn't cure anything, when there is a cure to osteoarthritis and rheumatoid arthritis.

$54 billion (and that's just the drug sales) made based on the iie that arthritis in incurable.
Shameful.
----- Quick Arthritis Medication Video -----

Arthritis Medication
Same For Different Types Of Arhtritis
Unfortunately, when prescribing arthritis medicine, doctors prescribe the same meds regardless of whether their patient has osteoarthritis or rheumatoid arthritis (VERY different kinds of arthritis that share the same symptoms.

Again, this points to that doctors only deal with symptoms, not causes (which points to why they can't cure your arthritis).
If you do some research, you'll see many medical sites that list arthritis drugs...and that list will be the same for osteoarthritis and rheumatoid arthritis.  
Below you will find lists of categories of arthritis medications, but not by kind of arthritis.


Arthritis Medication By Category
For all kinds of arthritis, doctors prescribe:
Analgesics (pain killers)
Biologics (biologic response modifiers)
Corticosteroids (hormone mimic)
DMARDs (disease modifiying anti-rheumatic drugs)
NSAIDS  (non-steroidal anti-inflammatory drugs)
And lots of them.  Arthritis medication is an $11+ billion dollar industry.
Non Steroidal Anti-Inflammatory
Acetylsalicylic acid (aspirin)
Addaprin
Advil
Aleve
Anacin
Anaprox  
Arthrotec
Bayer 
Bufferin 
Cambia 
Cataflam 
Celebrex 
Celecoxib 
Clinoril 
Daypro 
Diclofenac potassium 
Diflunisal
Duexis
Dyspel
EC-Naprosyn
Ecotrin
Etodolac
Feldene
Fenoprofen 
Flurbiprofen 
Genpril 
Ibuprofen 
Indocin 
Indomethacin 
I-Prin 
Ketoprofen 
Meclofenamate sodium 
Mediproxen 
Mefenamic acid 
Meloxicam
Mobic
Motrin 
Nabumetone 
Nalfon 
Naprelan 
Naprosyn 
Naproxen 
Oxaprozin 
Piroxicam 
Therafeldamine 
Tivorbex 
Tolmetin 
Vimovo 
Vivlodex 
Voltaren  
Zipsor

Analgesics (Pain Killers)
Acetaminophen
Anacin (aspirin free) 
Avinza 
Cocet 
Combunox 
ConZip 
Dolophine 
Embeda 
Endocet 
Endodan 
Excedrin 
Hycet 
Hydrocet 
Hydrocodone bitartrate 
Hydrogesic 
Hysingla 
Kadian 
Lorcet 
Lortab 
Magnacet 
Maxidone 
Methadone hydrochloride 
Methadose 
Morphine sulfate 
Norco 
Opana 
Oramorph SR 
Oxycodone 
OxyContin 
Oxymorphone hydrochloride 
Percocet 
Percodan 
Primlev 
Reprexain 
Roxicet 
Roxicodone 
Rybix 
Ryzolt 
Tramadol 
Tylenol 
Ultracet 
Ultram 
Vicodin 
Vicoprofen 
Xodol 
Xolox 
Zamicet 
Zohydro ER
Zolvit 
Zydone

DMARDs
Arava 
Azasan 
Azathioprine 
Azulfidine 
CellCept 
Cyclophosphamide 
Cyclosporine 
Gengraf 
Hydroxychloroquine sulfate 
Imuran 
Leflunomide 
Methotrexate 
Mycophenolate mofetil 
Neoral 
Otrexup 
Plaquenil 
Rasuvo 
Rheumatrex 
Sandimmune 
Sulfasalazine 
Sulfazine 
Tofacitinib 
Trexall 
Xeljanz 
*Note RE: Humira


It should be noted that the Biologic drug Humira is the top selling drug of all time.

It sold $9.3 Billion in 2012 and $14 billion in 2015.
That's A LOT of drugs to a lot of people.

And the increase in sales brings up the question....are that many more people suffering from arthritis in 2015 than they were in 2012, or are sales tactics and doctor recruitment just that much more effective?
Corticosteroids
Baycadron 
Betamethasone 
Celestone 
Cortef 
Cortisone acetate 
Dexamethasone 
DexPak 
Hydrocortisone 
Medrol 
Methylprednisolone 
Millipred 
Orapred 
Pediapred 
Prednisolone 
Prednisone 
Prelone 
Rayos 
Veripred 20
Biologics
Abatacept
Actemra 
Adalimumab 
Anakinra 
Certolizumab pegol 
Cimzia 
Enbrel 
Etanercept 
Golimumab 
Humira 
Infliximab 
Kineret 
Orencia 
Remicade 
Rituxan 
Rituximab 
Simponi 
Tocilizumab
As you can see from the above lists, there are MANY choices of arthritis medicines to choose from.
There is a lot of competition between drug manufacturers for the dollars in the arthritis market.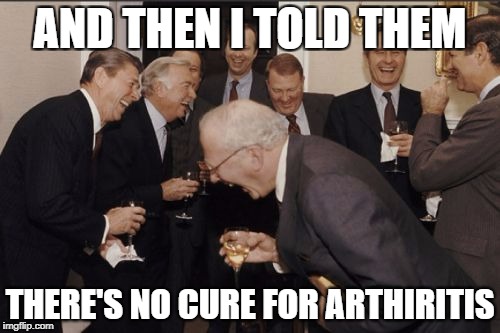 Remember, Artritis Medication is an 11+ BILLION dollar per year industry...and it's a drug that doesn't cure arthritis.

Rheumatoid Arthritis Medication
Rheumatoid arthritis pain medication comes from the lists above.
As has been said, doctors prescribe the above medications for Rheumatoid Arthritis (RA) and Osteoarthritis, even though the two have vastly different cause mechanisms.
See:  What Is Arthritis
See:  Cause of Rheumatoid Arthritis
The hope of rheumatoid arthritis medicine is that it suppresses the auto-immune response mechanism (that creates various symptoms).  And some people do experience symptom relief while they're on the drugs.
The problem with symptom suppression however is that there is still an auto-immune mechanism being triggered in the body.  And until that trigger is removed, there will always be an auto-immune response being pushed forward.
RA medications can not and will never cure rheumatoid arthritis.  It is an impossibility.
But reversing rheumatoid arthritis is a very doable thing.  Just not with pharmaceutical drugs and doctors that believe that RA is incurable.
Return to the top of this Arthritis Medication page.
Go to the www.TendonitisExpert.com homepage.