Doctor Says I Have Achilles Tendinosis Which Is Fluid In The Tendon
by Mike
(Fullerton, CA)
I've been dealing with chronic achilles pain/swelling in right foot for 3 plus years.


I initially went to a Sports doctor that prescribed physical therapy. After doing pt diligently for a few years (stretching, building calf muscles, etc) I still have same symptoms.
I can not run without severe swelling and limping for a few days after. Usual morning tightness and soreness throughout the day. I finally saw an mri of the area and am diagnosed with Achilles Tendinosis -- fluid inside tendon.
I have a great doctor -- surgery is scheduled in a few weeks. He is going to go in, drain, remove any dead stuff, re-stitch and shoot my blood platelets into tendon.
Questions: What can I expect for recovery times??
How long in cast? Have others had success with similar surgeries?
----
Joshua Answers:
Hi Mike.
How'd that surgery go?
I can't really answer your questions, as it depends on how much he cuts out of there.
4-8 weeks in a cast is common. But there's soft casts and hard casts...
Plus more physical therapy! Really you went to PT for 2+ years??
Also, your doc called 'fluid in the tendon'
Tendonosis
? Interesting...
Let me know how the surgery went, and where you're at now, and we'll go from there.
----------------------
Please reply using the comment link below. Do not submit a new submission to answer/reply, it's too hard for me to find where it's supposed to go.

And, comments have a 3,000 character limit so you may have to comment twice.
-----------------------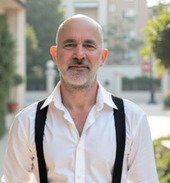 Joshua Tucker, B.A., C.M.T.
The Tendonitis Expert
www.TendonitisExpert.com