Golfer's Elbow and Wrist Tendonitis
by Naomi Spicer
(New Zealand)
I have golfers elbow and wrist tendonitis in both arms, have had for about a year got it from work.

I started swimming about 6 months ago as i do a physical job and my physio at the time said that would be good to help build up the other muscles in my arms.

Swimming is helping but I have to do it everyday to help reduce the pain to livable. What is your suggestion for treating both.

Going to start the ice dip today.

Naomi

----

Joshua answers:

Hi Naomi. That's no good you've been hurting for so long.

So, you have Golfers Elbow and Wrist Tendonitis on each side.

I have some questions first and then I'll say more.

1. How exactly do you know you have Wrist Tendonitis?

2. Is the Wrist Tendonitis on the palm side, or the opposite side?

3. I assume the Golfers Elbow pain is basically on the palm side of your forearm, the flexor muscles.

4. How bad is the Golfers Elbow?

5. Is one side worse than the other?

6. What is the job/work activity that caused this, do you think?

Answer those questions by clicking on the COMMENT link below and I can give your some more detailed answers.





For now though, start Ice Dipping and do it consistently.

If you have been in a lot of pain for a long time, you may want to increase the number of dips.

The more you do now, the faster you will feel better.

Healing Golfers Elbow and making the pain from Wrist Tendonitis go away can happen quickly.

Even if you've had it as long as you have, and it hurts as much as you have been hurting.

Ice Dip both forearms at the same time, all the way up over the elbow.

So, there's that.

1. Ice Dip as much as you can, consistently for the next seven days.

2. Read through the website, all the pages about Wrist Tendonitis, Inflammation, and The Pain Causing Dynamic.

3. You may want to consider getting The Tennis Elbow Treatment That Works.

I haven't made a DVD for Golfer's Elbow, and I may not, because Tennis Elbow and Golfer's Elbow are exactly the same thing, except on opposite sides of the forearm.

Ice Dipping, and to a more complete degree 'The Tennis Elbow Treatment That Works', has the capability to make all your pain go away, if you do it as I describe.

You may or may not need something else for the 'wrist tendonitis', but depending on exactly what you have going on, Ice Dipping and/or the DVD can make the bulk of the pain vanish, if not all of it.

And, I'm happy to work with you here until you are completely out of pain.

Answer the questions, ask more questions, Ice Dip, and let's go from there.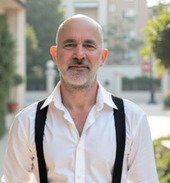 Joshua Tucker, B.A., C.M.T.
The Tendonitis Expert
www.TendonitisExpert.com