I have used Cipro for over 20 years for UTIs
by Karen B
(Chicago ILLINOIS )
I have used Cipro for over 20 years for UTI's. No problems but depression. Works great for infection.


This year, now were on all Generic brands and it seems from the stories I've read that THIS MAY BE A PROBLEM. I took ONE PILL, jut ONE 500 mg pill for a bad UTI and when I woke up I had SEVERE TENDON PAIN in my right calf, BURNING FEET, I was almost comatose! I immediately STOPPED!
I have MS, and an extensive medical background so I KNEW it was the ONE BLOODY PILL!
Did I freak out (after near death in 2000, 6 major surgeries, 4 autoimmune diseases ) NOT right away. STAY CALM I said. READ.
I weighed my options and instead of calling a KNOW NOTHING DOCTOR took a short burst of Prednesone starting at 40 mg. NOTHING. 400 mg Ibuprophin NOTHING. Now I'm FREAKING OUT!
My Right Knee popped out TWICE, and the pain in my Calf comes and goes. Today right now, it's at the point where I SWEAR it's going to TEAR.
I just remind myself that the DAMAGE IS DONE, there's NO GOING BACK, you can only EDUCATE YOURSELF, and move FORWARD.
Being as how it comes and goes, i am hopefull! If you feel AFRAID, go to the ER! At least your not sitting ALONE and your with medical professionals !!! PEOPLE MUST UNDERSTAND THAT IT ONLY TAKES ONE DOSE! JUST ONE 500 mg PILL! Whether it be Cipro, Levaquin, Floxin, or Avelox.....all one and the SAME!
In conclusion.....BEWARE, just because you TOOK IT BEFORE like I did, means NOTHING! NO ONE IS EXEMPT!
THIS DRUG NEEDS TO BE PULLED!!!
One last note: Per my BROTHER the ORTHO SURGEON, in MED SCHOOL THEY SPENT ONE SEMESTER ON PHARMACOLIGY!!! ONE! Out of 6 YEARS!
THE DOCTORS
DONT KNOW SQUAT ABOUT THE DRUGS THAT THEY GIVE YOU! REMEMBER THAT! Ask your Dr " have you ever taken this drug "?? I will bet you the answer will be NO!
God Bless everyone on this thread, and thank you SIR FOR YOUR PAGE! I'm SIGNED UP FOR EMAIL NEWS!!
Respectfully,
Karen B.
----
Joshua Answers:
Hi Karen.
1. Do you have MS, or do you have the results of 20 years of Fluoroquinolones?
2. What are you doing for self care for all this now?
There is a common thread of repetitive UTI's, auto-immune disease, depression, the results of surgeries, fluoroquinolone use (and MS), etc..
And that is nutritional depletion and damaged and diminished gut ecology/function.
That has to be dealt with (effectively) for the body to have any chance of recovery.
Your body has been running on a low/empty tank for a long time.
3. It may be that you have some amount of ligament/tendon damage, but it is 100% likely that that last dose took you to empty or beyond.
Prednisone (potentially harmful) and Ibuprofen can't help at all with that.
4. One semester on pharmacology, indeed. And even less on nutrition.
Shameful.
See Related:
My Doctor Said Cipro Didn't Cause Muscle Pain And Weakness And No Long Term Side Effects
See Related:
Unexplained Pain From Levaquin And Dementia
----------------------
Please reply using the comment link below. Do not submit a new submission to answer/reply, it's too hard for me to find where it's supposed to go.

And, comments have a 3,000 character limit so you may have to comment twice.
-----------------------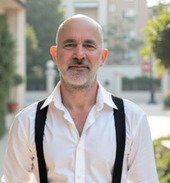 Joshua Tucker, B.A., C.M.T.
The Tendonitis Expert
www.TendonitisExpert.com