I WILL NEVER WALK WITHOUT PAIN AFTER PLANTAR FASCIITIS SURGERY
by BARBARA DRIVER
(JACKSON MS 39272)

I AM 66 YRS OLD, MY FASCITIS SURGERY WAS DONE BACK IN SEPT 1, IT IS NOW FEB 1,2010.

I WILL NEVER BE ABLE TO WALK ON MY FEET VERY LONG.

SINCE THE SURGERY I HAVE PAIN AND SWELLING EACH DAY.I CAN ONLY BE ON MY FEET FOR 2 HOURS,THEN THE PAIN AND SWELLING STARTS.



----



Joshua Answers:


Yikes! That doesn't sound good.

Are your feet worse after the surgery than they were before?

Surgery clearly didn't help!

The first thing I would suggest that you start doing is Ice Dipping as described on the How To Reduce Inflammation page.

You have an ACUTE Process of Inflammation in place in your feet.

Get that pain chemical out with Ice Dipping, then we can start to see what's goin on in there.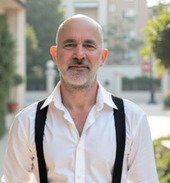 Joshua Tucker, B.A., C.M.T.
The Tendonitis Expert
www.TendonitisExpert.com