Levaquin 750 mg for skin on chest infection- Jan 2010
by Wm. Henry, Jr
(Oxnard, CA)
Male, age 82, excellent health (mother lived to 104 and physician father to 91).


Local Urgent Care prescribed 5 Levaquin 750 mg pills - and gave me 2 sample pills to add to it - for a 7 day course to resolve a skin infection on my chest.
Also gave 2 hip shots of antibiotics on successive days, and 18 Clindamycin 150s to be taken every 8 hours. Described foregoing as "aggressive" treatment.
I walk 3 mi per day - and after 3 Levaquins, I had enough pain about .3 mi into my walk that I had to discontinue the walk and struggled to get home.
Tried to walk after 5 Levaquins - and had to turn around. I didn't take the last 2 Levaquins and continue the have considerable thigh and calf pain.
In a sense it feels like several Charlie horses.
The literature refers to tendonitis - but I suspect fasciitis - or something along those lines.
Dermatologist suggested it would pass when he dressed chest infection, mostly now healed.
First Levaquin was on Jan 4 - now nearly 2 wks later and not resolved. I haven't walked for past 10 days - first such interval in 15 years.
----
Joshua Answers:
Hello William(?).
Let's hope your Dermatologist is correct, that this will go away.
Fluoroquinolones attack connective tissue. SO it can be tendons thus tendonitis, or a variety of other connective tissue structures, anywhere.
What kind of chest infection did you have?
Were the shots also for the chest infection?
Thanks for sharing, and let's hope you're in the category of people who get
side effects of Levaquin
and then have them go away in under 3 months.
----------------------
Please reply using the comment link below. Do not submit a new submission to answer/reply, it's too hard for me to find where it's supposed to go.

And, comments have a 3,000 character limit so you may have to comment twice.
-----------------------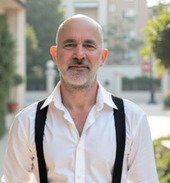 Joshua Tucker, B.A., C.M.T.
The Tendonitis Expert
www.TendonitisExpert.com