Plantar Fasciitis Surgery October 2008, The Pain Is Back
by Bonnie Green
(West, Texas)

I started going to my regular MD doctor in 2006 for plantar fasciitis.

He gave me an cortisone injection. When that didn't work, about 3 months later he made an appointment for me with a podiatrist.

She had orthotics made and I wore those to try to ease the pain.

When that didn't work, she gave me a steroid injection. About 2 months later, another injection. She also had given me prior to this stretching exercises.

We put my foot in a foot split, but to no avail none of these worked.

On October 7, 2008 I had the PF surgery.

The surgery went well I thought, although the pain never subsided.

The only thing with the surgery was, I had to keep my foot propped up for about 10 days. The doctor gave me some crutches to use after the surgery. Well, that was a disaster. My husband got me a walker and that helped considerably.

The worst part about the surgery was the immobility.

The pain is now back, but I'm not sure if it's exactly like it was before because it's located around the same area, just not on the ball of my foot.

It seems to be on the side of my foot in the area close to the arch, but now my other foot has been hurting for months now. I have an appointment with my foot doctor next week, and hopefully she'll have some ideas.



----



Joshua Answers:

Hi Bonnie.

I hope she does have some ideas! Ideas that will actually help, anyway.


Please keep us updated on how you progress post surgery, and let us know what the doctor suggests.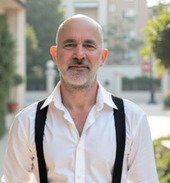 Joshua Tucker, B.A., C.M.T.
The Tendonitis Expert
www.TendonitisExpert.com