Took Levaquin Twice and Got Plantar Fasciitis Each Time
by Beth
(USA)
I got painful plantar fasciitis over a year ago after taking Levaquin for a sinus infection.


I went to a Podiatrist, who gave me inserts for my shoes for overpronation, recommended supportive shoes, prescription for anti-inflammatory drugs, a night brace, an injection in the affected heel, and wrapped my foot.
None of this helped and the inserts and shoes made the problem worse and seemed to cause my other foot to start hurting also. At the time, I didn't associate the problems with Levaquin.
After about 7 months, I got Sketchers Shape Up shoes. Immediately, I noticed I could walk a few miles with significantly less pain. Not long after, I had no pain and could even hike for several miles with no pain.
A few months later, I got another sinus infection and another prescription for Levaquin. That is when the heel pain came back. After a few weeks without the Levaquin, the pain abated and went away again.
I won't be taking Levaquin again in the future.
----
Joshua Answers:
I think not taking Levaquin again is a VERY good idea.
It's -great- that pain came and then went away. MANY MANY people that suffer from
Levaquin Tendonitis
wish that there's had just gone away.
Also, it makes sense that the inserts hurt the other foot, as all of a sudden your foot was forced into an unnatural position while being walked on etc. Heck, that could have caused you to develop
Plantar Fasciitis
, using inserts when they're not needed or helpful.
----------------------
Please reply using the comment link below. Do not submit a new submission to answer/reply, it's too hard for me to find where it's supposed to go.

And, comments have a 3,000 character limit so you may have to comment twice.
-----------------------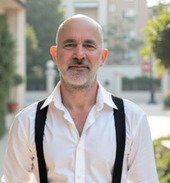 Joshua Tucker, B.A., C.M.T.
The Tendonitis Expert
www.TendonitisExpert.com