Tricep Tendonitus in both arms, best way to ice
by Anthony
(New York)
Hello,
I have Tricep Tendonitis is both arms (too many overhead extentions in the past I think).
The pain presents itself in the back of the elbow.
Which one of your icing techniques do you suggest for this? The ice attack or the ice massage?
Thanks so much.
----
Joshua Answers:
Sounds like you have it identified, so I'm not going to ask any questions.
The good thing about Triceps Tendonitis is that it's about as simple as it gets, problem-wise. Nothing tricky about it.
In general, I suggest both the ice dipping 'attack', and the ice massage.
Only problem with dipping is, unless you have a huge sink, it's tough to get too much above the elbow. Ideally, you would want to dip the entire arm up to the shoulder....
Still, it can only do good things for the health of your arm to ice dip as described, and get the water to cover as high up the arm as possible.
If I had to pick between the two, I would pick like this...I would ice dip like crazy for a few days. Then lighten up the frequency and start adding Ice Massage. Then focus on Ice Massage and dig in there.
That's not really picking between the two, obviously, but you see what I'm getting at, yes?
Superficial (depth)
inflammation out with ice dipping, then go deeper with massage.
There is no perfect way. If you just want to ice massage, go for it, and cover as much area as possible.
Also, I'm starting to like frozen water bottles over ice for some things. (no melting and dripping)
So how about try this. Freeze a big or small bottle of water. Put it on a table. Put your triceps on the ice bottle, and basically roll the bottle the length of the arm, and back.
This will take some experimentation to get smooth with, but not only do you get the benefits of icing, but you get the benefits of massage too.
Tendonitis treatment requires both for the best results.
The downside is, you can't do both sides at once to save time.
So that was kind of a longer answer, but there you have it.
Ask more questions, get more answers.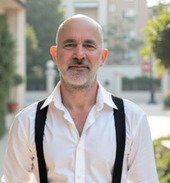 Joshua Tucker, B.A., C.M.T.
The Tendonitis Expert
www.TendonitisExpert.com