What Can I Do About Levaquin Side Effects?
by Terry
(Florida)
I was given a prescription of Levaquin 500MG consisting of 10 pills. At the end of my taking them I suddenly developed sharp pain in my achilles tendon that seriously affected my ability to walk. It has been 3 weeks since my initial dose, and my Right foot & lower leg are swelled and preventing me from walking freely.


Both feet are affected but only my right foot and leg are swollen. What is my future? How long will this last? What can I do to shorten these effects? Is this the end of it? P.S. I am a 76 year old male in good health.
Thank you,
Terry.
----
Joshua Answers:
Hello Terry.
By default, if you don't do anything in particular, you'll either recover in 12 months or less, or you won't. Those seem to be the two categories.
Levaquin Tendonitis Side Effects
aren't like normal side effects.
Levaquin does a variety of things to your body that shove you into dysfunctional physical health and body operation.
Levaquin is out of your body in 3 days, but the damage it causes and the disruption to your body systems can be permanent.
Levaquin Tendonitis is NOT normal
Tendonitis
. They're completely different animals.
My main suggestion for you is to get
The Levaquin Tendonitis Solution
ebook. It contains a complete explanation and plan, and you get access to the ebook's forum for questions and answers from Kerri and myself.
I'm not going to give you and tips or tricks. That just isn't going to work with Levaquin cytotoxicity
and aftereffects.
I don't know what you've read so far about Levaquin, but it's BAD NEWS. Chances are slim that you're just going to naturally recover back to normal. Step on a nail, yes, you heal. Even one dose of Leavquin can cause permanent problem.
Having said that, some or all of that problem can be gotten rid of if you go about it the right way.
Regardless of if you're 76 or 26, if you want to get better, you HAVE to bolster your body in the right ways and with adequate amounts.
Countering Levaquin Side Effects is all about nutrition, specifically, the building blocks your body needs to operate properly and to heal.
More questions, more answers.
----------------------
Please reply using the comment link below. Do not submit a new submission to answer/reply, it's too hard for me to find where it's supposed to go.

And, comments have a 3,000 character limit so you may have to comment twice.
-----------------------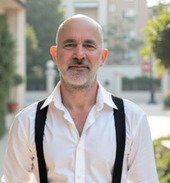 Joshua Tucker, B.A., C.M.T.
The Tendonitis Expert
www.TendonitisExpert.com