Would never do it again... Achilles Tendonitis Surgery NIGHT MARE
by terri rodriguez
(miami fl usa)
I am 38 just starting jogging loosing weight... loving life... went hiking on a girls camp and tore my achilles and had a heel spur also on the bottom at the same time...
(LEFT) he gave me a shot everything was good for like 3 weeks. pain was even when i was sitting moving up my heel to my leg in tears... so surgery was on.
I didn't hurt with the achilles very long like 3 months.. getting up in the morning was nasty problems couldn't walk...
The surgery was going to be simple no more then an hour. june 2009 and two screws... it was almost 3 hours and 4 screws... i spent almost 3 months in a soft cast... the pain was something i never felt before and i had 4 kids.
i was in a cast for 3 days was back in the hospital for 7 days with infection... they had to put animal skin to cover the tendon. i spent 2 months in a walking boot... then 3 months trying to walk... on my foot.
i still can't stand on my tip toe or run.. i have no feeling in my feet.. still have problems to this day.
recovery is i feel a lot on my foot. i popped out a screw. my foot puffed after 2 hours hopping around... the pain was wow.. i kept a journal of every day.. from the first day til now.
i try to run for the first time today and i think i tore it again i will find out on monday.
doc put me in bed off my foot for a while. gave meds for infection just in case.
i just wish i never had it done... i am
in so much pain right now. and it hasn't even been a year yet.. my skin is peeling clear liquid is dripping. i just want to cut my foot off... lol... if you barely touch my skin in that area i just want to die.....it has a stinging...
----
Joshua Answers:
Thanks for the picture. That's really helpful.
Is your tissue all sunken in there? It looks like it.
Hmmm, I'd be worried about infection there...even if it's clear liquid.
It's been almost a year, it shouldn't be doing that...!



Questions:
1. Did you find out if something popped out/tore more?
2. How bad was it torn/ruptured before the surgery? Did they know? MRI? Xray?
3. When they did the surgery, how much of a rip/tear could they see?
4. Do they know what it looks like in there now?
5. What -exactly- did they do during surgery? How much tendon did they take off/remove?
----------------------
Please reply using the comment link below. Do not submit a new submission to answer/reply, it's too hard for me to find where it's supposed to go.

And, comments have a 3,000 character limit so you may have to comment twice.
-----------------------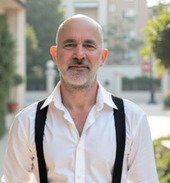 Joshua Tucker, B.A., C.M.T.
The Tendonitis Expert
www.TendonitisExpert.com