Wrist Lumps with Tendonitis, doctors don't seem to agree
by Michael M.
(Canada)

Hi,

So I've had tendinitis issues for a while now (6 months). Both of my forearms have issues from extensive computer use. I've been working on getting them better, but the one thing that I've noticed doesn't seem to change is my wrist lumps.

They are located about an inch or two below my wrist, on the top side of my arm, on the inner side. There are two lumps, very close to each other. I wouldn't say they're hard, more like a tough rubber. They haven't grown since I found them, but they do swell if I've aggravated my wrist.

Now my first doctor didn't act like they were of any importance and ignored them. My physiotherapist seemed surprised when they weren't just gone after one week of therapy. And my second doctor wasn't sure if they'd ever go away.

So I guess my question is: Should I worry about these lumps? Can my wrist heal while still leaving them there?

Thanks,
Michael

----

Joshua Answers:

Hi Michael. Thanks for the description and the question.

So just to make sure we're on the same page, I think you mean...a couple inches below the wrist, on the back of the hand side of the arm, on the thumb side of the arm.

I'm going with that neither doctor was concerned about cancerous growths, which primarily leaves either wrist cysts, or Lipomas (which are benign growths that tend to show up at in areas where there is structural strain/stress).

Doesn't really sound like cysts. Sounds like Lipomas, fits the parameters.

Nothing to worry about with Lipomas. They have a tendency to show up and hang out. They can be annoying, but aren't dangerous unless they're right over a nerve or something.

They can grow and get so big they are a hassle and/ or get painful (depending on where they are and what they connect to) but that's not common.

They can be cut out, but
A. Tend to grow back
B. Cause scar tissue, other problems, and...it'll probably grow back.


Can Tendonitis heal while the Lipoma lumps are there?

Yes, absolutely, but.

:)

Tendonitis will not be made worse or better with the presence of Lipomas, nor will they slow or speed healing.

I said 'but', because Tendonitis usually doesn't just heal on its own. Meaning, a person shouldn't just 'rest' it and hope it will heal. That will become evident from looking over the rest of the site.



Also, just for fun let me just guess something from what little you said....

Your tendonitis pain is in the same area as the Lipomas? You cock your wrists back when you keyboard/type? And/or somehow you use a mouse in a way that has you repeatedly cock/bend your wrist back?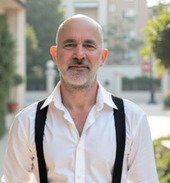 Joshua Tucker, B.A., C.M.T.
The Tendonitis Expert
www.TendonitisExpert.com