Achilles tendonitis from driving and running
by Dann
(UK)

Hi Joshua

I changed my job 4 months ago. My new job involves an increased amount of driving and running.

I have done plenty of walking the last 2 years but not too much running as my previous job took up so much time I stopped.

After doing the job for six weeks I suddenly had a pain in the back of my foot. I had to stop running and had to just walk for about 10 days.

The pain has faded quite a bit but I do have a little swelling on my achilles tendon just above the heal. Not sure if it was the amount of driving or the running up steep streets that did it.

I got the Tennis Elbow DVD in the summer which was great. Do I have to use the same methods on my ankle as I did the elbow?

Also should I carry on walking, it doesn't hurt when doing that but wondered if that might aggravate it. I have not risked running on it yet.

Thanks



----


Joshua Answers:


1. Yes, absolutely keep walking. Movement is great for mobility and necessary circulation.


2. Essentially, yes, you can use what you learned on the DVD and apply it to the Achilles and heel. 5 gallon bucket
for ice dipping.
3. I wonder if the pain spot on the heel is from resting your heel on the floor as you use the gas pedal, assuming it's the right side?
4. Achilles tendon-wise, the running stairs or driving didn't do it, it was always in process of 'developling' with the
Pain Causing Dynamic
.
The stairs and/or driving likely pushed it past a certain threshold so now you feel pain.
5. If you're getting
Tendonitis
in multiple areas, we need to start looking at magnesium deficiency and protein deficiency.
Magnesium for Tendonitis
Bone Broth as the best Tendon Supplements
, and increase your protein intake, potentially your calorie intake so your body can burn the extra and utilize the protein.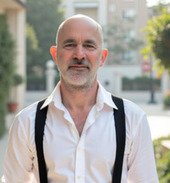 Joshua Tucker, B.A., C.M.T.
The Tendonitis Expert
www.TendonitisExpert.com