Wrist Tendonitis
It's Not Carpal Tunnel

It could be though.
Huh?!?
Wrist Tendonitis is commonly misdiagnosed and/or confused with Carpal Tunnel Syndrome. The first thing we need to get clear about Carpal Tunnel and Tendonitis of the Wrist is that they share many of the same symptoms, but technically are different problems.
While there a lot of different opinions about which is the best tendonitis wrist treatment, the inability to differentiate between these two problems is purely due to a lack of skill and experience.
Both are (for the most part) repetitive strain injury, and you can definitely reverse, and prevent repetitive strain injuries.

Wrist Tendonitis and Wrist Tendons

Muscles on the front and back of your forearm transition into tendons. These tendons cross the joint and attach to the bones of your wrist.
They work together to pull your wrist up, down, side to side, in a circular motion, and to various angles.
They also stabilize the wrist while the fingers work.
When you overuse your muscles, you overuse your tendons.
They slide through their grooves ( tendon sheaths ) over and over, and get little tiny microtrauma (rips and tears and irritation).
The tighter muscles are, the more tension and friction they exert on the tissue that they rub against.
By the time you feel pain you already have a Pain Causing Dynamic firmly in place and your nervous system has started a Process of Inflammation.
Do You Have Wrist Tendonitis?

It is important to understand what exactly Tendonitis is. 
Tendonitis can show up pretty much anywhere in the body (anywhere there is a muscle/tendon structure, that is).
Make sure that you understand the answer to the question:  What Is Tendonitis?
How do you tell the difference between Carpal Tunnel Syndrome and Tendonitis of the Wrist?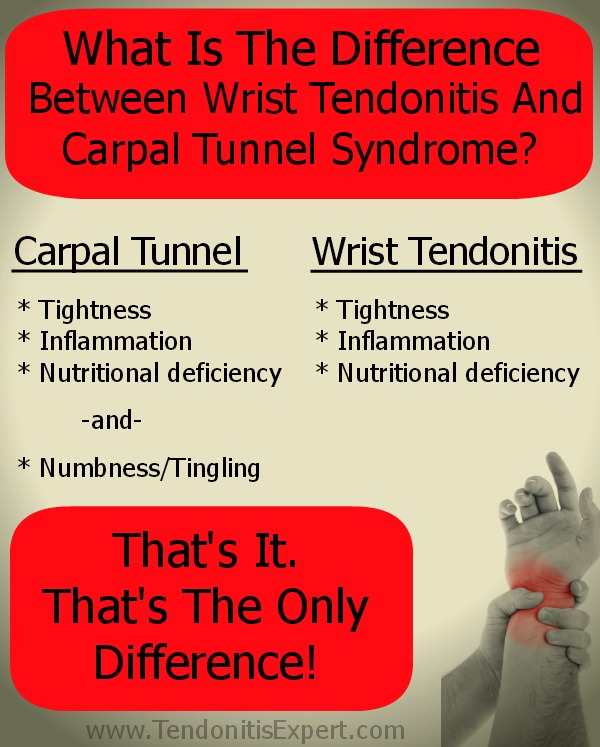 As I said earlier, Wrist Tendinits and CTS are often confused.
Why?
Because you can have one or both, and your Wrist Tendinitis can mimic all the symptoms of Carpal Tunnel.
As we progress down the page let me show you a way to differentiate between the two..it's pretty simple.

But first, get on the 7 Day E-Course, if you're interested in taking your wrist from painful and limiting to good-as-new. Sign on below.
Tendonitis Of The Wrist Is.....

one or more of the tendons that connect to and/or cross the wrist joint having inflammation and/or wear-and-tear micro-injury.
Wrist Tendonitis is caused almost entirely by Repetitive Strain. Repetitive strain injury, in this case, irritates the wrist tendons, and can cause actual damage.
If you follow your tendons with your fingers, you will be able to find 'hot spots'.

Wrist Tendonitis Symptoms range from mild to disabling, depending on how long it's been there and the type of movement performed.


Symptoms of Wrist Tendinitis:
* Forearm and/or Wrist Pain
* Decreased Range of Motion
* Sharp and/or Shooting Pain
* Chronic Ache and Feeling of Tightness
* Loss of Hand Strength
* Numbness
* Increased risk of Dequervains Tendonitis (Meaning that problem can spread to your thumb.

Surgery For Tendonitis Wrist

These symptoms can lead doctors and people like you to start looking at Wrist Tendinitis Surgery as an option, after the other options fail.
Surgery for Tendonitis of wrist tendons has been shown to help wrist tendonitis. Research and studies show it to be effective....depending on how you look at the numbers.
In my professional experience, getting surgery on the wrist tendons due to wrist tendonitis either:
Doesn't help at all, plus you have the pain and issues from having the surgery
Helps for a short amount of time, but then the pain comes back
Aside from the potential negative side effects and dangers of Wrist Tendinitis surgery, surgery does not deal with the Pain Causing Dynamic, the progressive pattern, that Carpal Tunnel and Wrist Tendonitis share.
The same pattern that caused the pain in the first place.
Carpal Tunnel Syndrome Is....

the name of a label given to a set of Carpal Tunnel Symptoms.
It is the common name given any time there is pain in the front side of the forearm/wrist, with numbness or tingling in the fingers.
You can have Tendonitis of the Wrist and have Carpal Tunnel Syndrome (CTS), or you can have Wrist Tendinitis and not have Carpal Tunnel Syndrome.
It depends on the location of the Tendons involved.

Here's a simple way of telling the difference between the two.
1. If there is Tendinitis on the palm side of the wrist that involves the Carpal Tunnel and results in numbness/tingling in the fingers and pain, that's likely Carpal Tunnel Syndrome.

2. If there is pain and inflammation with any of the other tendons that cross and/or attach to the wrist, then you're looking at Wrist Tendonitis.
It gets tricky, when you have Wrist Tendinitis on the back side of you wrist -and- have numbness in your fingers.
If you have numbness, doctors are generally going to make the Carpal Tunnel Syndrome diagnosis.
You may notice how similar the symptoms of Carpal Tunnel Syndrome are to the symptoms of Wrist Tendonitis.
One Missing Piece

There is an all encompassing aspect of Tendonitis that Western Medicine fails to take into account, especially with Wrist Tendonitis and Carpal Tunnel Syndrome.
The aspect is that when there is pain, muscles get tight.
Connective tissue connects EVERYTHING in our bodies. Connective tissue in the forearms and wrist gets shrunk down and constricted when you have Tendonitis.
The constant motion that comes with Repetitive strain injuries, literally causes wear and tear on tendons. But that's not all!
You also have constantly too tight muscles and constrictive connective tissue.
When you have Tendonitis anywhere between your hand and your elbow, that constricting connective tissue not only helps compress nerve leading to the hand, but the 'carpal tunnel' can bet compressed from all the local shrinkage.
This is why Carpal Tunnel Syndrome is so over diagnosed.
The Carpal Tunnel may be compressed but it generally is not actually the problem.

Carpal Tunnel Release Surgery, aside from all it's other downsides, is doomed to fail if 'releasing' the tunnel doesn't release or reverse the source of all the constriction and.....
It doesn't, won't, and can't.


What All Tendonitis Has In Common

Tendonitis is Tendonitis.
The medical community gives the impression that Carpal Tunnel Syndrome, Intersection Syndrome, Cubital Syndrome, Tendinitis of the Wrist, etc, are all different issues.
However, when you look into it, you will find that they all have the exact same Pain Causing Dynamic, but in different locations.

Having Wrist Tendinitis for the most part is no different than having Tendinitis anywhere else. It follows the same rules.
They each have some specific indicators and variables, but there is an underlying dynamic that that all share. Deal with the dynamic, and they all get better quickly.
If you have Tendonitis in the Wrist, it can be dealt with easily and effectively.
What You Need To Know About Tendonitis Of Wrist Tendons
There are some important points to know about tendonitis of wrist tendons.
You can have Tendonitis on wrist tendons on the palm side of the forearm, or the back-of-the-hand side of your forearm, or both.
You can and may not have true tendonitis (injury), -and- have mild to severe inflammation which makes it FEEL like you have an injury, (which could even feel like a 'hot spot' on your actual tendon).
You can have tiny, minor damage to the tendon -and- a huge, ongoing pain response that just continues to make things worse over time.
Whether you have Tendonitis on wrist tendons or not, what you REALLY need to worry about is the Downward Spiral the body goes down due to the Pain Causing Dynamic
There is much more information about this on the relevant pages of this website.
If you have tendonitis of wrist tendons, there's an entire dynamic that's much bigger than just the tendons themselves.
Do You Have Wrist Tendonitis?

If you have Tendonitis in the Wrist, you're lucky.
It is a safe bet to make that you have pain and inflammation because you have been doing some sort of Repetitive Motion, resulting in a Repetitive Strain Injury, essentially Tendinitis.
If you have the RIGHT information like you will find on this website, dealing with tendonitis of the wrist can be quick and easy as opposed to other kinds of injuries that cause serious, hard to repair injury.
For instance, as I write this, I'm almost a year into a L5-S1 ruptured disc experience. While I've found methods that help a GREAT amount, I haven't yet found a quick, cheap, easy cure.
My point is, I wish I had wrist tendonitis instead of a disc issue. I'd be pain free in a week.
You can learn how to get out of wrist pain and keep yourself out of pain too. If you've done what the doctors told you to do and you're still in pain, you might think that the previous statement is impossible.
And it will continue to be impossible if you keep doing activities that don't help.
Tendonitis leads to inflammation which leads to pain which leads to tight muscles which leads to inflammation which leads to pain.....
To reverse that process and start feeling better TODAY, learn How To Reduce Inflammation.

How Do You Make Your Pain Go Away?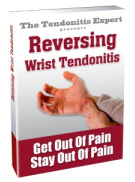 If you want to eliminate your wrist tendonitis pain, I suggest you get the 'Reversing Wrist Tendonitis' program.
The secret is, the treatment is nearly the same.
Carpal Tunnel and Wrist Tendonitis share the same dynamic of tightness and inflammation.
The pattern is similar except for a couple little differences.
If you follow what 'Reversing Wrist Tendonitis' shows you to do, in a short amount of time you can either be totally pain free, or very close to it.
Wrist Tendonitis Questions and Answers
Do you have wrist pain, forearm pain, and think or know that you have Wrist Tendonitis?

Ask any questions you have about your situation. To save time and back and forth, make it as detailed as possible. History, symptoms, age, what makes it better, what makes it worse, how long it's been like this, what started it, what you have done to try to help it so far, ets.

MAKE SURE TO CLICK THE NOTIFICATIONS BOX AND LEAVE YOUR EMAIL ADDRESS IF YOU WANT NOTIFICATION THAT I RESPONDED TO YOUR QUESTION!

The following Q&A is free!

Having said that, I do get more questions than I can keep up with. If you want a 4-36 hour turnaround on your question use the Paypal button below to purchase a Quick Response (then come back and submit your question with lots of details in the form below).

If you order a Quick Response, you'll get one. If you don't, I will answer your question (if's a good question with enough details, and if you leave your email address for notification), but it may take me days, weeks, or months, to get to.


$20 for a Quick Response
Other Questions and Answers
Click below to see Questions and Answers from other visitors to this page...




Return to the top of this page.
Go to the TendonitisExpert.com homepage.
www.TendonitisExpert.com
on