10 years of Plantar Fasciitis hell
by Lynne
(Scotland UK)
Started back at the gym 10 years ago.. woke up to what i thought was an injury, only it went on for months and months, finally spoke to my doctor and referred to physiotherapy, i was then referred to bio-mechanics clinic, this was a waste of time, referred back to physiotherapy again when i was told i had plantar faciistas


i received months of ultra sound treatment but nothing changed. I was still in severe pain every morning when i stepped out of bed and i soon began to suffer from late afternoons.
After receiving ultra sound i was told it would go away on its own but it never did. I returned back to my doctor for surgery after suffering two years only to be told to change foot wear and see how i get on.
I struggled a further 2 years this time i had to cut my working hours from 40 to 30 as i was struggling with the pain, i was finally refereed to an orthopedic doctor, he wrapped my foot up, gave me special insoles and told me to do special exercises everyday three times a day for the next few months this did not work either, by this time i had cut my hours of work down from 30 to 20 as the pain was unbearable i was now suffering constantly day and night, returned back to my doctor, this time in tears with the pain and also due to how it was affecting my families life and my social life.
I was referred to the hospital where i spoke with an orthopedic surgeon who sent me for an xray and told me i had an extremely large heel spur on my left foot and there was nothing that he could do apart from show me a special way to strap it up.
I went home in tears that day the pain was slowly but surely destroying me and my family, my hours were now cut from 20 to 10 i couldn't walk any distance i couldn't do anything, the pain then began on my other foot and that was horrific.
I cried day in day out with the severe pain. I had to ask for a second opinion i finally got to speak with another orthopedic surgeon and was told he could perform a topaz calibration procedure where he would burn 30 1" holes into my heel to burn away all the damaged tissue in my foot and wait for it to repair itself and take from there.
My procedure was two weeks ago and all seems well for now though it is still early days....watch this space!!
----
Joshua Answers:
Hello Lynne.
As you describe,
Plantar Fasciitis
can be not only painful but debilitating.
That's just how
Tendonitis
works.
Everybody is different, but that's a predictable component of the
Pain Causing Dynamic
....more pain, more tightness, more pain, more tightness, etc.
Keep us updated on how your recovery from the Topaz
Plantar Fasciitis Surgery
goes!
----------------------
Please reply using the comment link below. Do not submit a new submission to answer/reply, it's too hard for me to find where it's supposed to go.

And, comments have a 3,000 character limit so you may have to comment twice.
-----------------------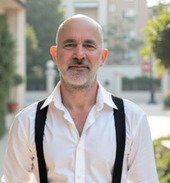 Joshua Tucker, B.A., C.M.T.
The Tendonitis Expert
www.TendonitisExpert.com