14 year old with wrist pain. He is guitar and tennis player
by Darlene
(Schenectady NY USA)
My son is 14 and has played the guitar for 4 years.


He is entering 9th grade and has made it into the high school jazz band. About 6 months ago he started complaining about wrist pain. I realized he could not flex his wrist (fingers toward sky), more than 30 degrees. Also, he is unable to play more than 30 minutes.
I figured since he is a very "tight" person... hamstrings, etc, that he only needed stretches.
However, I took him to an orthopedic doctor to see what he said. ( My son has very tight muscles everywhere.).
He had an MRI because the doctor thought he may have "crossover syndrome" All was negative. He suggested my son see a Rhumatologist. All blood work has turned out negative.
Then, when he was playing tennis, (after 2 years of time off), with an instructor a week ago, he complained his wrist hurt REAL bad afterward.
He, of course, did not want to say anything when they were playing. Up until this last session, we have been playing as a family with no problems. This instructor REALLY worked him because he said he say "potential".
Anyway, we have started the ice dips. We do 12 in 2 hours..... Should he do more??? Do you think he will be able to play tennis again? It still hurts when he plays guitar. He would give up tennis.....guitar is his first love. I am very surprised by his age and having this problem.
I would appreciate any thoughts you may have.
BYW.... When he tries to play tennis, the back of the hand hurts.
When he plays the guitar, the "palm" side of the wrist hurts. Basically he says his whole wrist hurts. He also mentioned that his right arm almost feels week. Carpal Tunnel was ruled out by the 1st doctor.
This is the 3rd
time he has excelled at something he has worked for that he might have to give up. (The other was playing the sax...ear issues, and track....really tight hamstrings).
Help,
----
Joshua Answers:
Hi Darlene. Thank you for all the details. Saved me from asking a lot of questions.
So a couple things jump out at me, aside from the obvious wrist pain.
1. Why is he so 'tight'?
2. Why is he having to drop out of activities/not able to 'play' at such a young age?
Those are 50% rhetorical questions.
There's definitely a Tendonitis dynamic, meaning there is a
Pain Causing Dynamic
of progressive tightness and pain.
We can deal with that. I'm more interested/worried about the underlying cause.
1. Tell me a little more about the ear thing.
2. His energy levels sound fine, yes?
3. How is his digestion?
4. Does he wake up feeling refreshed?
5. Is he a coffee and/or soda pop drinker?
6. How is his health in general?
7. History of illness/sickness/injury?
I have some first impressions, but I'll save them till you answer the above questions and give me a more accurate picture of what's going on.
Oh, and yes, Ice Dip. I would shoot for AS MANY DIPS IN A DAY AS YOU CAN. He's in acute stage, meaning painful and reactive and oversensitive to movement of all sorts.
Ice dip like crazy. More on that later.
----------------------
Please reply using the comment link below. Do not submit a new submission to answer/reply, it's too hard for me to find where it's supposed to go.

And, comments have a 3,000 character limit so you may have to comment twice.
-----------------------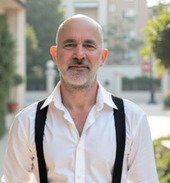 Joshua Tucker, B.A., C.M.T.
The Tendonitis Expert
www.TendonitisExpert.com