16 years old I have either Carpal Tunnel Syndrome or Tendonitis
by Nick
(Viroqua, WI)
Hi my name is Nick I am sixteen years old. I've always played sports, I've played guitar for 8 years and played piano when i was younger.


About two years ago i sat down on the piano for the first time in quite awhile and found that just after a few seconds of playing the top of my hand had excruciating pain, also on the top of my forearm up near my elbow.
Playing guitar and sports its pretty much my life.
Ive been planning on going to college for sports and music as long as i can remember and not being able to do those things really sucks. Also when playing hockey if i take a wrist shot my i get a jolt of pain through my hand and up my forearm and my hand goes numb. This however is the only time my hand goes numb.
My chiropractor said that i have an inflamed nerve in my elbow as well as what ever is wrong in my hands. I am at the point now where all i have left to do is talk to my doctor and get surgery done so i was wondering if i could get a second opinion before i have to do that.
Thanks a million!
Nick
----
Joshua Answers:
Hi Nick.
If you did walk in and get surgery, what exactly would they do? What would they cut on? What is wrong that they would 'fix'?
What if it's all coming from up at your neck?
----
See:
Carpal Tunnel Symptoms
And, as I recall, this page will help you tell the difference between Carpal Tunnel and
Wrist Tendonitis
.
----
What if some or all of your pain and problem is primarily caused by nutritional deficiency, like Vitamin D deficiency and/or Magnesium deficiency?
Surgery
isn't going to fix that.
Symptoms of Tendonitis
are caused by a variety of different things.
If you're 16, active, and haven't had an injury, then -something- is off such that you're having the kind of symptoms that you describe.
Yes, you may have an inflammed nerve at the elbow (and that's likey what they'd cut around), but what is CAUSING the nerve to get inflamed?
Where's that coming from?
Lots of good questions to ask.
My questions for you:
1. Is the pain there all the time, or just sometimes? When?
2. Do you have numbness in the hand/fingers?
3. Jolts of nerve pain any other time, or just with slap shots?
4. Do your forearms feel tight? Tired? Sore? Etc.
5. History of whiplash, head/neck impact or injury, etc.
6. Pain anywhere else in your body?
7. Overall, describe your diet.
8. What have you been doing for this, to help it?
9. The shooting jolt, does it shoot up, or down? Does it -start- somewhere?
----------------------
Please reply using the comment link below. Do not submit a new submission to answer/reply, it's too hard for me to find where it's supposed to go.

And, comments have a 3,000 character limit so you may have to comment twice.
-----------------------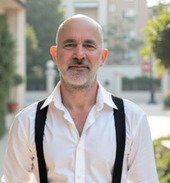 Joshua Tucker, B.A., C.M.T.
The Tendonitis Expert
www.TendonitisExpert.com