2 1/2 weeks after plantar fasciitis surgery and still hurts to walk any distance.
by matthew smith
(yorba linda, ca)
I have had planter fasciitis for about two years. The doc started with mild treatments and eventually progressed to surgery. The doc recommended it partially because I refuse to quit karate with my son. I was getting better daily until after two weeks I went to a baseball game without using a crutch.


While walking out of the stadium my foot really started to hurt even though is was in a soft cast. Now I use a cane to go everywhere.
Am I going to get better and be able to continue karate.
If so when?
----
Joshua Answers:
Hi Matthew.
Good questions. I wish I had easy answers for you.
The Plantar Fascia is the (under) support structure of the arch of the foot.
You were on your feet a lot and your doctor thought it was a good idea to cut that structure apart to some degree.
Unfortunately, that makes your structure weaker. It (can and does) also set you up for rips and tears to that structure where tissue was cut and/or severed.
For the life of me I can't figure out why doctor's think that cutting the support structures of a bridge is a good idea. But that's just my professional bias.
So, what kind of foot surgery did you have? What did they do, exactly?
What self care have you done, other than trying to stay off your feet.
(Also keep in mind, surgery CREATES a wound. 2.5 weeks for wound healing isn't that long of a time.....)
----------------------
Please reply using the comment link below. Do not submit a new submission to answer/reply, it's too hard for me to find where it's supposed to go.

And, comments have a 3,000 character limit so you may have to comment twice.
-----------------------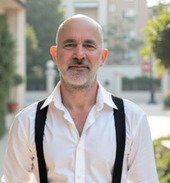 Joshua Tucker, B.A., C.M.T.
The Tendonitis Expert
www.TendonitisExpert.com