3 1/2 Months Since Plantar Fasciitis Surgery, still a mess
by Kathi
(Osceola, IN USA)
I have had plantar fasciitis for nine years and have been through everything prior to having surgery September 14, 2009. I tried orthotics, therapy, cortisone injections, stretching... everything!
Had a partial release of the plantar fascia in September and have had nothing but problems since.
Used a roll-about walker (highly recommend this instead of crutches) for two weeks. Had my stitches removed and then my incision split.
Spent two weeks on power antibiotics and was unable to massage the area due to excessive swelling. Scar tissue built up and I returned to therapy. The scar tissue situation is now resolved.
Problem: I have more pain now than I did before and also have severe outside ankle pain. Almost feels like a sprained ankle. Therapy has been useless for this. Everything has been useless and I am at my wits end.
Overall, I am not happy with the outcome of my surgery. My pain on the bottom of my foot is worse now than before and my ankle has been sore (no swelling) for three months.
The doctor put me on Celebrex for the ligament pain, no resolution. Looks like I'll be going back again
to the doctor. Something must be done... this is no way to live.
----
Joshua Answers:
Thanks for sharing Kathi. I'm sorry the surgery didn't go as we all wish it would have gone.
Is your original pain still there but is now worse, or is the pain different (along with the sprained ankle feel)?
I wonder, what can your doctor do for you.....
I'm curious what s/he will say. More therapy? More shots? Another surgery??
----------------------
Please reply using the comment link below. Do not submit a new submission to answer/reply, it's too hard for me to find where it's supposed to go.

And, comments have a 3,000 character limit so you may have to comment twice.
-----------------------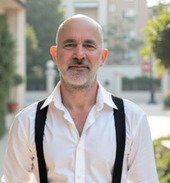 Joshua Tucker, B.A., C.M.T.
The Tendonitis Expert
www.TendonitisExpert.com