3 months after Plantar Fasciitis surgery, foot pain more severe now
by Rita
(Milpitas, CA)
I had right foot pain about a year ago and I got Plantar Fasciitis surgery on Dec. 21st 2010. The surgery part went breeze through but recovery part was really painful. This is the worst pain I went through in my life. 2 months I really went through lot of pain. I went through post surgery therapy twice a week and felt lot better and went back to work on March 1st 2011 for 6 hrs a day.


I could work only two weeks now my foot pain is more severe than before I had the surgery. I rested the whole week but no help. I went back to my surgeon and referred to see Neurologist. In meantime my left foot is in pain.
I am afraid of gaining weight and get depressed because all my life I been very active. Now, I don't know how to pass the day. I don't know what Neurologist is gonna do?
----
Joshua Answers:
Hi Rita.
I don't know what a neurologist is going to do for you either, other than prescribe drugs for the pain.
1. What did they do for surgery, exactly?
2. What exactly were your symptoms pre-surgery? Give me some background there.
3. I'm in the Bay Area every couple of weeks. Might be worth it to come in
and see me once. Worst case scenario you'll walk out with an effective self care plan, better case you'll walk out feeling much better.
Use the contact form if that sounds good.
If that doesn't sound good, then I suggest you put LOTS of attention on learning
How To Reduce Inflammation
.
Plantar Fasciitis
and
Tendonitis
are bad enough, much less adding injury to the foot with surgery. Sure it's great when it works out, but it doesn't always work out.....and then what?
Then you get to learn how to reverse the Tendonitis dyanamic, which includes the
Pain Causing Dynamic
.
See:
What Is Tendonitis?
----------------------
Please reply using the comment link below. Do not submit a new submission to answer/reply, it's too hard for me to find where it's supposed to go.

And, comments have a 3,000 character limit so you may have to comment twice.
-----------------------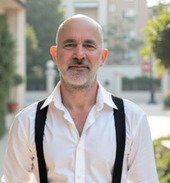 Joshua Tucker, B.A., C.M.T.
The Tendonitis Expert
www.TendonitisExpert.com