Andy's Endoscopic Plantar Fasciotomy seems to be working
by Andy
10 years of intermittent plantar fasciitis.


Last three episodes in right foot only, becoming increasingly persistent.
Used yoga, deer tendon supplements, acupuncture, massage, ice, orthotics, steroid injections, and stopped running for over a year.
I literally could not firmly touch the inside of my heel for the past 18 months due to the pain.
Began to affect my knee and hip due to compensation for the heel pain. Had endoscopic surgery under general anesthesia 3 weeks ago.
Don't remember anything from surgery, but before and after was very smooth. I took 1 dose of narcotic, then stayed on Aleve for one week.
I walked gingerly the first week on the dressing. One week after the surgery I turned quickly and felt a dramatic pop in my foot which resulted in the most postoperative discomfort for approximately 2 days.
I was a little worried, but suspect that it was just scar. I was in a shoe 2 days later and walked with minimal pain. Now have no pain, dramatic improvement since surgery. The incisions are barely visible. First bike ride today. Used elliptical yesterday.
Gradually, but rapidly, getting my life back. I'm not sorry I didn't do the surgery sooner, because it should be used as a last resort, but wow!
----
Joshua Answers:
Hi Andy.
That's great you're feeling better.
Keep us updated!
----------------------
Please reply using the comment link below. Do not submit a new submission to answer/reply, it's too hard for me to find where it's supposed to go.

And, comments have a 3,000 character limit so you may have to comment twice.
-----------------------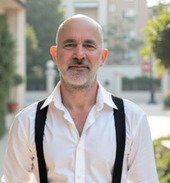 Joshua Tucker, B.A., C.M.T.
The Tendonitis Expert
www.TendonitisExpert.com