Ballerina with Achilles Tendonitis
by Karen Berggren
(Toronto, Ontario, Canada)
Dear Mr. Tucker,
My 16 year-old daughter is a serious ballet student and is hoping to try her RAD Advanced 2 ballet exam this spring. She has been plagued with achilles tendonitis in her right leg for the past 2 years, and it is getting worse. We have seen our family physician who recommended physiotherapy, which did not seen to help at all.
We are currently seeing a chiropractor, which seemed to help initially but is not helping anymore. My daughter is so upset at the idea of having to stop training for months in order to heal this problem (which is what we have been told). Have you got any suggestions as to what she can do to get this problem under control? We appreciate any help you can offer.
Thank you so much!
----
Joshua Answers:
Hi Karen. Sorry to hear about your daughter's Achilles issues.
Balet can be tough on the Achilles, but I'd rather deal with that that the toe/foot damage they get.
Still, both can be prevented if done right, and reversed if caught soon enough.
Some thoughts, then some questions.
1. Get her Vitamin D3 levels checked. I bet you a dollar she's low. Vit D3 plays such a big role in health and pain, and everyone is deficient, so I recommend it
to everyone. And Vit D deficiency is clearly linked to breast cancer, so you can't go wrong getting your whole family's levels up.
2. She needs to start eating more protein. Not enough protein means not enough building blocks to rebuild what gets broken down on a daily basis.
You literally can't heal wihtout enough protein.
3. How motivated is she? It will take some effort to turn this around, especially if she continues to be active on her feet. Is she willing to do the work?
Questions:
1. Did the pain suddenly appear, or did it sneak up over time?
2. Please describe the pain, as much detail as possible. Where, when, how long, how bad, etc.
3. Anything else interesting/valuable for me to know?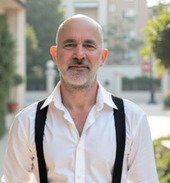 Joshua Tucker, B.A., C.M.T.
The Tendonitis Expert
www.TendonitisExpert.com