Biceps Tendonitis in the Netherlands
by Ertan
(Netherlands)
Hi,
I have been suffering from tendon pain in both elbows for more then 4 months.
To be more precise the pain gets worse when lifting something and/or contracting my biceps.
The tendons are painful even if I press them with a finger.
I went to a doctor who diagnosed Biceps tendonitis and prescribed Naproxen 500 mg twice a day for a month. I have been using it now for a week and I can feel a little improvement.
Forgot to mention that I was ignoring the pain for at least 2 months before I went to a GP.
Blood tests seem to be ok.
I would appreciate any recommendation on treatment. Can I still go to gym and do moderate exercises?
Many thanks.
E.C. Netherlands
----
Joshua Answers:
Hello Ertan.
Sure sounds like Biceps Tendonitis to me.
Lot of pain, lot of tightness, lot of the
Process of Inflammation
.
Hello
Pain Causing Dynamic
and
Tendonitis
!
1. What did you get a blood test for?
2. What self care are you doing for it other than Naproxin?
3. What activities have you been doing that got you into this?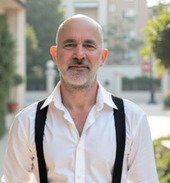 Joshua Tucker, B.A., C.M.T.
The Tendonitis Expert
www.TendonitisExpert.com