Bilateral Medial Elbow Pain That Started A Week Ago After A Chiropractic Adjustment
by Carol
(Roseville, MI, USA)
Right medial elbow pain started one week ago, including numbness, tingling down arm to ring/pinky finger.
Now the left elbow and hand are following suit.
Both hands are numb and tingling.
Had chiropractic adjustment day or two before pain started...also have frequent knee and hip pain, mostly right side, sometimes bilateral.
----
Joshua Answers:
Hello Carol. Sorry to hear that you are hurting.
So....do you think this may be a result of the chiropractic adjustment?
Depending on what's going in your neck, and assuming that it was a forced adjustment, your body can respond in a way that TIGHTENS muscles up to protect the structure from getting yanked on, and it will do that long after you left the chiropractor's office.
And then the other side will start to mimic and compensate for the one side, which explains why the other side is starting to have the same symptoms.
So, let's investigate.
Questions
1. Have you had anything like this before?
2. What did/do you do for a living? Desk job? I'm looking for what positions and activities your body is doing regularly over time.
3. Age?
4. Describe that chiro adjustment. Was it different than others?
5. Any history of
Tendonitis
,
Tennis Elbow
, or
Carpal Tunnel Syndrome
?
6. Anything else interesting to tell me?
7. What irritates, and what helps, the numbness and such in the elbows and fingers? For instance, if you roll your head around, look to the ceiling, etc, does that do anything in particular?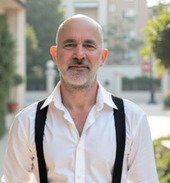 Joshua Tucker, B.A., C.M.T.
The Tendonitis Expert
www.TendonitisExpert.com