Bone Spur causing Achilles Tendonitis or Plantar Fasciitis?
by Pattie
Could I have Achilles Tendonitis or Plantar Fasciitis?
I have been suffering from pain that is on the back of my heel on the inside.
I was told it was retro bursitis.
I got xray and it showed a small bone spur but no AT or PF.
I have been doing Physical Therapy and stretching it for Achilles Tendonitis and Plantar Fasciitis and it is not getting better.
PT has something called ionic's with cortisone that stopped and now I am just getting Ultrasound and massage.
They are all at a loss. I need to know what this is.
----
Joshua Answers:
Hi Pattie.
It's totally possible to have retro bursitis without any
Plantar Fasciitis
or
Achilles Tendonitis
.
Also, X-Rays really aren't going to show PF or AT.
Bursitis can be VERY painful, whether it's
Shoulder Bursitis
or Retro Bursitis (calcaneal bursa inflammation and pain).
Maybe the bursa got irritated and inflammed because the calves and lower leg structures are too tight and they put too much pressure on the Achilles tendon which put too much pressure on the bursa.
Maybe that bone spur is digging into it and irritating it.
Maybe both.
The first step
is to reduce inflammation -and- take that tension of the tendon.
Ice dip as described on the
How To Reduce Inflammation
page.
Have that PT open up the myofascia of the calves and lower leg and relax the muscles, if they know how to.
The bone spur may or may not be an issue.
Questions:
1. Where -exactly- is that bone spur? And how big is it?
2. How long has this pain been going on?
3. Did it start out bad, or creep up on you?
4. History of other pain/injury?
5. Overall health?
6. What have you done that helps, what makes worse?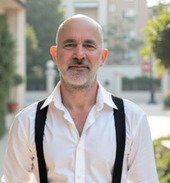 Joshua Tucker, B.A., C.M.T.
The Tendonitis Expert
www.TendonitisExpert.com