Can Cipro cause bulging discs?
by Anna
(Lafayette CA)
Hi, can Cipro cause bulging discs?


I am 33 year old female and I took cipro for two days and discontinued it due to pain in my right ankle.
Since stopping the medication almost two months ago I have bulged two disc in my neck, developed tendonitis nearly everywhere (pain, strains and one partial tear).
While I know that tendon issues are a side effect of the drug, do you think Cipro is able to affect the strength of spinal discs as well?
I have early spinal degeneration in my neck but only one bulging disc prior to using cipro.
Thank You,
Anna
----
Joshua Answers:
Hi Anna.
First off, your spinal degeneration is due to low levels of vitamin D, not enough magnesium, and years and years of extra compression from your muscles not doing their job well.
In and of itself, bulging discs aren't a primary
Side Effect Of Cipro
.
Having said that, fluoroquinolone antibiotics like Cipro and Levaquin attack connective tissue. Thus the rips and tears in your tendons.
Here's more what I think the situation is.
You ALREADY had a variety of factors conspiring to bulge your cervical discs. This includes poor posture, nutritional deficiency (mainly Magnesium), TOO TIGHT muscles and connective tissue, (which creates) weak muscles unable to do their job (which causes) discs to bulge.
Then you took Cipro. Just like
Levaquin
, Cipro massively depletes the body of magnesium.
So you, already short on magnesium and suffering from TOO TIGHT muscles unable to work optimally because of the lack of necessary magnesium (See:
Magnesium for Tendonitis
) all of a sudden have MUCH MUCH LESS magnesium available in your body.
This does not make a body happy. Suddenly your muscles are sore, painful, achy, stiff, etc.
You're already TOO TIGHT muscles in the neck that are busy compressing the vertebrae of the cervical spine suddenly get much tighter, compress more, and are less able to absorb force, so all that force goes to the discs.
Not a good scenario. You don't just have
Tendonitis
all over your body (See:
What Is Tendonitis
), you have Cipro Tendonitis.
Cipro Tendonitis is the common (and misleading) name for the cytotoxicity that comes from fluoroquinolone antibiotics like Cipro and Levaquin.
So, the discs were already in bad shape and the Cipro made things worse.. But the other tendon injury...that I would certainly blame on Cipro.
Massive magnesium deficiency, mitochondrial kill off in connective tissue, possible DNA damage....no fun.
The best I can do for you there is to point you to the 'Levaquin Tendonitis Solution' ebook over on the right of the page.
It was SUPER wise of you to stop after two days when your ankle hurt. Just imagine how bad it would be if you did 4 days, or 10. Yikes.
More questions, more answers.
----------------------
Please reply using the comment link below. Do not submit a new submission to answer/reply, it's too hard for me to find where it's supposed to go.

And, comments have a 3,000 character limit so you may have to comment twice.
-----------------------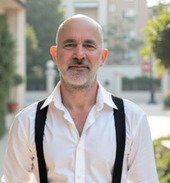 Joshua Tucker, B.A., C.M.T.
The Tendonitis Expert
www.TendonitisExpert.com