Can Tendonitis spread?
by Tom
I have Tendonitis in my left forearm from playing bass, and it seems to have spread to my left forearm, is this possible?
Also would you be able to point me in the direction of a specialist in Tendonitis for musicians? Thanks!
----
Joshua Answers:
Hi Tom.
Technically no,
Tendonitis
can't spread from side to side.
The dynamic can spread in the same area as things tighten up and connective tissue constricts,etc.
So if you're getting symptoms in the opposite arm, there are a couple possibilities.
Possibility #1: The body is essentially mimicing the bad side, literally changing because the body likes to be the same. There won't be any damage, but there will be other similarities.
Possibility #2: You use your Left hand to, yes? It's likely that your left hand has its own
Pain Causing Dynamic
going on, and that can lead to Tendonitis symptoms.
As far as pointing you towards an expert, do you mean in the area you live for some hands on work? I can't do that since I don't know where you live, and likely don't have any direct referrals anyway.
If you mean someone who can teach you how to play in a safer, more lasting and ergonomic way, there are a variety of video's and such on the internet, you'll have to look around and see what works for you best.
Also, Tendonitis in Musicians is no different that Tendonitis in computer users, knitters, etc. With slight variation of location and such, Tendonitis is Tendonitis.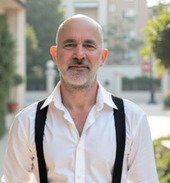 Joshua Tucker, B.A., C.M.T.
The Tendonitis Expert
www.TendonitisExpert.com