Can wrist tendonitis be brought on by a fall?
by Brenda
After a recent ice storm I fell in my driveway and immediately starting having shooting pain.


I went to the ER and had xrays showing is was not a break(they diagonosed sprain), three weeks later I am still having issues(not as painful but still sharp pains when turning my wrist), so I am sent for additional xrays and a costly MRI.
The next day I was informed my xrays were good and the MRI shows tendonitis.
I have never had a problem with the wrist before the fall, did my fall bring on the tendonitis?
Thank you,
Brenda
----
Joshua Answers:
Hi Brenda.
Yes, a fall can result in
Tendonitis
of the wrist or otherwise.
Technically, if you were diagnosed with a sprain then you hurt a ligament.
Depending on how you fell, you could have:
1. Overstretched a ligament
2. Stressed a tendon/muscle
3. Gotten a bone bruise on a wrist bone/joint bone.
4. All or a combination of the above.
Any option there will start an acute
Pain Causing Dynamic
, resulting in muscle tightness, a
Process of Inflammation
, a freaked out nervous system, pain, etc.
And that could lead to
Wrist Tendonitis
.
Maybe you already had a wrist tendonitis dynamic and the fall just put you over the edge.
On a very simple level, you fell down and impacted your hand/wrist/forearm. It's all involved. Maybe there's a couple specific spots that are worse, but you need to deal with it all.
Learn
How To Reduce Inflammation
. That will beneficially affect the overall structure and bring pain levels down.
Fair warning, if you have a bone bruise/joint lining bruise, that's going to hurt for a good long while. But you can speed up the healing.
More questions, more answers.
----------------------
Please reply using the comment link below. Do not submit a new submission to answer/reply, it's too hard for me to find where it's supposed to go.

And, comments have a 3,000 character limit so you may have to comment twice.
-----------------------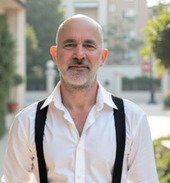 Joshua Tucker, B.A., C.M.T.
The Tendonitis Expert
www.TendonitisExpert.com