CARPAL TUNNEL RELEASE DONE, SYMPTOMS WORSE 3 YEARS LATER
by ROBERT T ISAAC
(MOORHEAD, MN)
I AM A MAILMAN AND USE MY HANDS ON 4,000 LETTERS, NEWSPAPERS,MAGAZINES EVERY DAY. CARPAL TUNNEL OPERATION ON BOTH HANDS IN 2007.


I CANNOT TOUCH THE MAIL NOW. MY HANDS,ARMS,SHOULDER EVEN MY RIGHT EAR HAVE CONSTANT NERVE PROBLEMS.
I HAD 1100 TELEPHONE BOOKS TO DELIVER AND AFTER THAT EVENT MY ARMS FEEL LIKE I HAVE 24 PACK OF POP
PULLING DOWN MY ARMS CONSTANTLY.
DAY OR NIGHT THE NERVES PULL DOWN EVERY SECOND EVER HOUR DAILY.
IS THIS THE WORST CASE ?
----
Joshua Answers:
Hello Robert.
I don't know if that's the worst result of
Carpal Tunnel surgery
, but it sounds like it's right on up there.
Lucky you the nerve wasn't accidentally severed.
So. You had surgery, you're still in debilitating pain.
My complaint about surgery is that it doesn't fix the PROBLEM. It just tried to deal with a symptom, and failed, and injured you in the process.
Tendonitis
can't be fixed by surgery, because the spot surgery targets isn't the cause of the problem It's where symptoms end up (maybe), but not where the problem starts.
So. What are you doing to try to reverse the problem?
(Also, please turn off the ALL CAPS in your response.)
----------------------
Please reply using the comment link below. Do not submit a new submission to answer/reply, it's too hard for me to find where it's supposed to go.

And, comments have a 3,000 character limit so you may have to comment twice.
-----------------------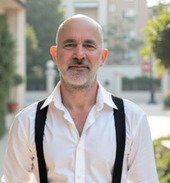 Joshua Tucker, B.A., C.M.T.
The Tendonitis Expert
www.TendonitisExpert.com