Carpal Tunnel Surgery, 3 on my left, 2 on my right, wrist pain is now worse
by Jeff
(Oakville Ontario)

Hello i have been off work now for 1.5 years from CTS working as a welder/blaster/painter/train repair, and still even though i have went through 3 surgerys 1 on my left and 2 on my right there is no change it is worse.

The doctors tell me it is from scar tissue on the nerve, and they cant remove it anymore because it will grow back.

I have been waking up 4-5 times a night no sleep like mabey 2-3 hours a night.

After my second surgery on my right hand i got an infection from what i dont know, and the pain is all the time i have these shocks that go through my hand once and while but they cause pain.

I just got my other nerve test done Nov 8 2009 and it has come back severe carpal tunnel syndrome, my readings are in the 6.8 up to 7.5 all down the board on both hands.

Going to see my doctor on the 16 to see what were going to do, ill keep you posted.

Jeff



----



Joshua Answers:

Hi Jeff. Thanks for sharing.

That sounds like a lot of wasted time, effort, money, and pain. Ouch.

I predict the doctors are either going to say there's nothing more they can do, or they are going to suggest something even more drastic.

You illustrate the point I make about surgery very well, the simple concept that surgery damages the body, and the body lays down scar tissue to heal itself.

And, you may want to consider supplementing with Bone Broth as the best Tendon Supplements, and Magnesium.

And in that you've had a significant Process of Inflammation for a long time, it may be of interest to you that Inflammation Causes Vitamin B6 Deficiency.

After your experience with surgeries that didn't work, I'm curious if your doctors will look towards a nutritional aspect to your symptoms, or start looking at that possibly your symptoms are coming from up at your neck and front of chest/shoulders.

Please do give us all an update on what the doctors say. I am very curious.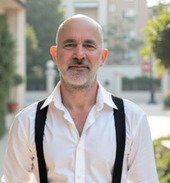 Joshua Tucker, B.A., C.M.T.
The Tendonitis Expert
www.TendonitisExpert.com